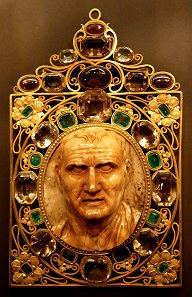 [bsa_pro_ad_space id=4]
September 20, 2018 – The 55th Munich Show will take place from October 26 through October 28, 2018. Spread out on 50,000 square meters, the event includes 1,250 exhibitors from all over the world and offers an information and trade platform for dealers, laymen, and everyone else interested in minerals, fossils, and precious stones.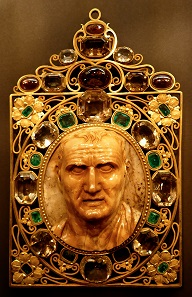 A bust of Cicero, Jaspis-Cameo, set in a jewelry tableau of rock crystal and smoky quartz, Inv.-no.: 1179, Staatliche Münzsammlung, Munich, early 19th century.
Collectors attending the event this year will find numerous extraordinary objects that not only include fossils, minerals, precious stones, and meteorites but also coins and jewelry of the House of Wittelsbach. A special exhibition dedicated to the Bavarian dynasty will give visitors an idea of the exquisite taste of King Ludwig II.
Medal minted on the occasion of the planned wedding of King Ludwig II of Bavaria and Duchess Sophie Charlotte in Bavaria, busts in high relief (obverse) and inscription (reverse), private collection, 1867.
Other highlights of this years' Munich Show include the meteorite of Mauerkirchen, which is the biggest meteorite ever to have fallen down on Bavarian territory as well as an exhibition called "Living Unique" which shows visitors that fossils, minerals, and precious stones can also be included in art, furniture and everyday objects.
Crystalized gold from Australia as seen in the "Elemente" exhibition.
The Munich Show will offer an abundance of fun activities for kids as well as a kindergarten so that parents get the opportunity to calmly browse the incredible exhibition objects.
In cooperation with Philapress, CoinsWeekly has compiled an issue of MünzenMarkt tailored specifically to an audience interested in fossils and minerals and it will be available in the context of this event.
More information on the Munich Show is available on the event website.
A short review of the 2015 Munich Show was published on CoinsWeekly.