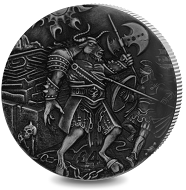 [bsa_pro_ad_space id=4]
August 2, 2018 – Following on from the success of the first coin in the series featuring the Siren, the second coin continues to illustrate another of the famous myths known the world over. Designed to thrill, entertain and inspire the listeners, the ancient Myths contain morals which teach different virtues: love, courage, self-reliance and strength. They also teach that vices such as jealousy, greed, treachery and greed have consequences.
British Indian Ocean Territory / 4 GBP / silver .999 / 62.21 g / 50.00 mm / Mintage: 650.
The second coin in this series features The Minotaur. A further three coins will be released to add to this series featuring The Hydra, The Centaur and Medusa, all of which have been produced in High Relief with each coin being Antique Finished by hand bringing the amazing featured characters to life.
The Minotaur as depicted on an Attic kylix. / Photo: Marie-Lan Nguyen / CC BY 2.5.
The myth of the Minotaur and Theseus is one of the most fascinating myths of Greek mythology. The Minotaur, the son of Queen Pasiphae and a bull sent by the Poseidon, was half man and half bull. As the Minos, husband of Pasiphae was so ashamed of this monster, he hid him in a specially constructed labyrinth which was so complicated that no one could ever find the way out alive. Theseus decided to go to kill the Minotaur in order to end the human sacrifices that were made each year. Having entered the labyrinth, unraveling thread as he went, Theseus was not only able to slay the Minotaur but also find his way out of the maze with the help of the royal couples daughter Ariadne.
The design on the coin shows the Minotaur in battle with the hero Theseus. The intricate labyrinth in which the Minotaur dwelt can be seen in the background.
To find out more about this coin and other creative designs by Pobjoy, check out their official website.
If you want to read about the ancient sources on the Minotaur, that's a fantastic website.
And those who like reading novels about ancient topics will certainly love Mary Renault's "The King Must Die".