[bsa_pro_ad_space id=4]
February 21, 2013 – For the first time ever, an exhibition in Mannheim will examine the many facets of one of the most famous families in the world.
Gold florin from the Willanzheim hoard. © Staatliche Münzsammlung München, Nicolai Kästner.
The Medici were one of the most famous families in the world. Their name is intimately connected with the Renaissance, power, riches and patronage of the arts. They shaped Florence and Europe for over three and a half centuries. The exhibition 'The Medici: People, Power and Power' at the Reiss-Engelhorn-Museen Mannheim will take a look behind the scenes of their power for the first time ever.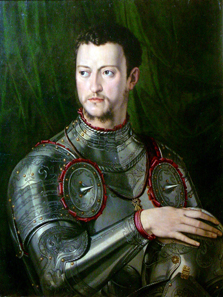 Portrait of Grand Duke Cosimo I. © Su Concessione del Ministero per i Beni e le Attività Culturali.
The Medici will be presented not only with the help of important artistic treasures but also as people with often contradictory personalities, unexpected traits, extraordinary passions and fateful medical histories. Written sources, important artworks from world-famous museums in Florence, sumptuous garments and unusual everyday items will form a diverse and often surprising picture. The show will illustrate the personal fates of the individual members of this still fascinating family as well as their important roles as patrons of the sciences and arts.
The Reiss-Engelhorn-Museen will trace their history from the founding father, Giovanni di Bicci (1369-1428), to the last Medici, Electress Palatine Anna Maria Luisa (1667-1743), and thus, in essence, from Florence in Tuscany to Mannheim in the heart of the Electoral Palatinate. The exhibition will open fittingly on the 270th anniversary of Anna Maria Luisa's death.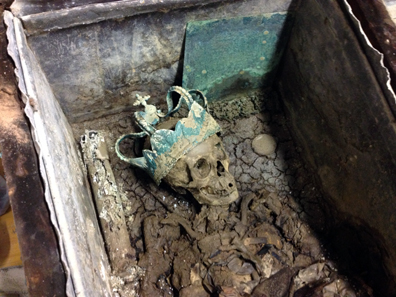 Exhumation of Anna Maria Luisa. © Wilfried Rosendahl, rem.
Their mortal remains hold the key to secrets, which were glossed over in flattering portraits and never acknowledged in official representations. The exhibition will therefore also include displays of CT animations and skeletal finds as well as the findings of recent forensic and bioarchaeological tests of the exhumed remains of various members of the Medici family.
A camera team from gebrueder beetz filmproduktion in Hamburg is accompanying the preparations for the exhibition and the research project. A 90-minute documentary, complete with elaborate dramatic scenes, will show the international team of researchers at work and furnish an exclusive look at laboratories, burial site and collections. It is scheduled to be broadcast during primetime by ZDF, ARTE, ORF and others in mid-February 2013.
All informationen on this exhibition are available at Medici 2013.