[bsa_pro_ad_space id=4]
by Ursula Kampmann
translated by Annika Backe
June 16, 2016 – From May 1 to 4, 2016, the Mint Directors Conference took place in Bangkok. It was attended by nearly 360 delegates for whom 35 presentations were held. Here you find an abstract of the papers given by the Technical Committee.
R&D for Process Development
Andrew Mills, Director of Circulating Coins at The Royal Mint presided over the session, during which four speakers talked about recent developments in the area of circulation coin manufacture.
Ron Harrigal of the US Mint introduced the polishing process of coining dies, as it is in use in West Point, Philadelphia, and San Francisco. Photograph: Mint of Thailand.
Ron Harrigal / US Mint, Automated Die-Polishing
Few nations have such a high demand for commemorative coins and, concomitantly, coining dies for high-quality striking as the United States of America. Because of that, a conversion from manual to automated die-polishing offered huge potential for saving time and cost. That is why a fully automated polishing machine made by the Swiss company Gerber Maschinenbau is now in use in the mints at West Point, Philadelphia, and San Francisco to polish the coining dies. The initial cost of this equipment amounts to nearly $250,000. With an expected equipment life of ten years, the Return on Investment for an average of 100 machine-polished dies per month is about 62% or $3.375. With 150 dies per month, it is even 143% or $5,063. And with only 50 dies per month, the ROI is even negative and amounts to -19%.
In a project conducted by the Technical Committee, three mints tested the new procedure. They entrusted their relevant coining dies to the US Mint which then undertook the polishing process.
All three enterprises confirmed that the polishing quality was acceptable when compared against internal standards. Tests conducted during the striking process obtained the same result but also revealed that, depending on the steel, frost and coating was different.
Dr Bo Deng presents a machine developed for the visual checking of large quantities of commemorative coins. Photograph: Mint of Thailand.
Dr Bo Deng / China Banknote Printing and Minting Corp., Application of Visual Technology in Minting Process
If there is one country that manufactures an even higher number of circulating commemorative coins than the United States of America, it is China. 800 million will be struck in 2016 alone. These coins are manufactured with major technological efforts – latent images, micro-text, different kinds of serration. The Chinese technicians asked themselves of how to introduce a quick and safe visual checking system for those coins.
In collaboration with Monnaie de Paris, Schuler, and INDUVIS GmbH, a machine was developed that allows the inspection of up to 400 coins per minute. It has five optical positions: At position 1, two cameras check obverse and reverse with a special light source, to detect discoloration and misalignment. Position 2 examines obverse and reverse with black-and-white cameras to detect scratches, blistering, and dents. Stations 3 to 5 look at obverse, reverse, and edge to check the quality of fine design elements and detect security features as latent images ad micro-text.
The machine has been put into operation, yielding promising results. A number of tests proved the automated visual checking, despite its speed, to be superior to manual checking.
Juan Manuel Shiguetomi refers to new Mexican circulation coins. Photograph: Mint of Thailand.
Juan Manuel Shiguetomi Villegas / Casa de Moneda de Mexico, Developing a New Circulating Coin System
In 2018, Mexico will introduce new circulation coins. Despite the high and always volatile metal prices, they should generate an attractive seigniorage for the Mexican state, be equipped with the latest security features – after all, the coin/banknote boundary will soon be raised –and be received by the users as easy to handle.
The following features of the denominations will be altered: The eight coins will be reduced to only six; the intermediate denominations will remain their diameter whereas the diameter will increase in size for the lowest denomination and decrease in the case of the highest denomination.
To save cost, the bi-metal coins which are expensive to produce will be reduced in number from five to the two highest denominations.
Less expensive metals were chosen: steel or steel plated either with brass or nickel. The bi-metal coins will be made of aluminum bronze and steel or of German silver and aluminum bronze.
To facilitate the different denomination's identification, the coins will be manufactured in several shapes and colors that alternate between "gold" and "silver".
As security features, the 10 peso coin will be equipped with a latent image, and the 20 peso coin with both a latent image and micro-text.
Motifs have been selected. Test coins have already been made. They are currently being assessed.
For the transition, only the 50 cent piece will be replaced whereas all other denominations will continue to be in circulation.
Dr Cheol-Min Park / Poongsan Corporation, Development of white color & low cost copper alloy for coinage materials
In 2014, Poongsan introduced a new alloy which possessed a similar color and similar qualities like cupro-nickel but was 20% less expensive. This material nevertheless had some limitations because it could not be recycled, which, despite a 20% saving of costs, rendered it unable to compete in mass production.
Comprehensive tests were conducted with eleven alloys of different composition. One of those obtained promising results. Bearing the desired white color, it has a good tarnish resistance. It shows similar electromagnetic conductivity and magnetical moment to cupro-nickel and provides good preconditions for both cold and hot rolling. In terms of wear, it is also on a par with cupro-nickel.
Product Development
The second session of the Technical Committee under the title "Product Development" was chaired by Günther Waadt.
Pascal Rencker, Monnaie de Paris, addressed challenging the limits of tri-metal coins. Photograph: Mint of Thailand.
Pascal Rencker / Monnaie de Paris, Challenging the limits of the tri-metallic circulation coins
Bi-metal coins are being manufactured since the 1980s. They have become a common sight even in the area of circulation coins. In the 1990s, attempts were made to replace the bi-metal coins with tri-metal ones. However, it was not possible to exploit the higher security features of those strikings because the vending industry did not have any standard sensors and software to authenticate the coins properly. Accordingly, no further tests were being conducted. By now, those sensors have been developed, thus opening the way for a tri-metallic coin.
Monnaie de Paris has produced such a coin and tested different production methods in the process. It is possible to mint and join the three parts of a tri-metal striking on the minting presses used for the manufacture of bi-metal coins in two steps.
It could be done much quicker with a special tri-metal minting press which could carry out all three steps simultaneously. But this would require more investment in new equipment.
In collaboration with CPI Crane Payment Innovations, the tri-metal coins' vending machine quality was tested. The test results are promising but more research has to be done.
At any rate, based on the time of circulation, the manufacture of tri-metal coins is likely to be 50% less expensive than the production of banknotes.
Dr Lutz Hofmann presents the final report on Flip Flop coins. Photograph: Mint of Thailand.
Dr Lutz Hofmann / Wickeder Westfahlenstahl GmbH, Multi Clad Coins with Flip Flop Design – A new safety generation
Flip Flop is the jocose name of a newly-developed material with high counterfeit protection that consists of several layers made of different alloys.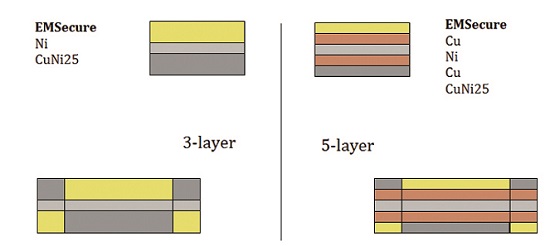 Cross-section of the newly-developed material. Photograph: Dr Lutz Hofmann / Wickeder Westfahlenstahl GmbH.
That is why its electromagnetic signature is much better to detect. This covert security feature is supplemented by one that is clearly visible to the naked eye: The obverse of the blanks made of the new material displays a different color than the reverse.
On the occasion of the final presentation, Dr Lutz Hofmann introduced two materials suitable for the production of blanks intended to be used for Flip Flop coins. The three-layer material consists of EMSecure / Ni / CuNi25 and the five-layer material of EMSecure / Cu / Ni / Cu / CuNi25.
Considerable cost saving potential is generated by the opportunity to use the multi-layer material for bi-metal coins: It is possible to pierce pill and ring in one single step without loss.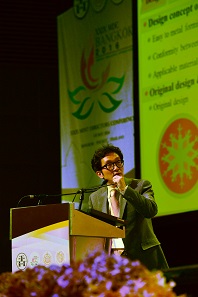 Byungkyu Choi talked about the extrusion process as it is applied for commemorative coins. Photograph: Mint of Thailand.
Byungkyu Choi / KOMSCO, A New Method of Coin Blank Manufacturing
The extrusion manufacturing process is not new, although, to date, it has never been applied to coin minting, contrary to the production of pasta and tubes.
As for the production of blanks, the basic concept of the manufacturing process based on extrusion basically remains the same. The blank is not being punched out of a rolled coil but cut from a can consisting of different materials forming a pattern within. At present, this process can only be used for blanks with a larger diameter.
By a look at an impressive test product, the attendees convinced themselves of the aesthetic qualities of this new technology.
In the upcoming part of the abstract of the papers given at the MDC we will focus on the second part of the presentations of the Technical Committee.
Please find a general contribution on the Mint Directors Conference here.
Part 1 with an abstract of the presentations of "The plenary sessions" can be found here.
And the website of the MDC 2016 in Bangkok can be accessed here.