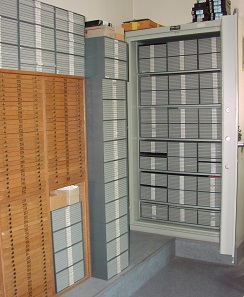 [bsa_pro_ad_space id=4]
September 20, 2018 – We're continuing our collection of numismatic records. This time the Forschungsstelle für Islamische Numismatik Tübingen FINT (engl. Research Center Islamic Numismatics Tübingen) has submitted a great CoinsWeekly Coin Record: the institute, which is part of the University of Tübingen, claims to be in possession of the numerically largest collection of Islamic coins in Germany. It is believed to only be outnumbered by the Russian Hermitage in St Petersburg as well as the coin collection in Qatar. Most notably, the collection in Tübingen is organized systematically and is used for research purposes.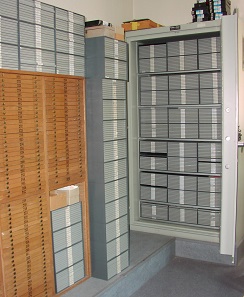 About 75,000 coins are being stored at the FINT strong room.
The university obtained its first Islamic coins as early as 1867. In 1988, it acquired the private collection of U.S.-American Stephen Album. Two years later, FINT was founded. The research center's collection encompasses a total of about 75,000 coins today! Until recently, Lutz Ilisch was in charge of this important collection. He made major contributions to the extension of the collection. The new head of FINT is Sebastian Hanstein.
As experts, Arianna d'Ottone und Stefan Heidemann were asked to verify this record on September 18, 2018 and confirmed it.
Further information about the Forschungsstelle für Islamische Numismatik Tübingen is available on its website.
The website also offers you an overview of the impressive collection of Islamic coins.
More information on Lutz Ilisch has been compiled by CoinsWeekly in a "Who's Who"-entry.
And here is a short introduction of the collection's new curator Sebastian Hanstein.
Stefan Heidemann has published an interesting article on "Collections of Oriental Coins in Germany".
If you also want to submit a CoinsWeekly Coin Record this article will tell you what information we need from you.