[bsa_pro_ad_space id=4]
January 22, 2015 – There is a small kingdom located in the remote corners of the Balkans. It is an age-old kingdom that was founded a long time ago, at some point during the Byzantine Empire. The Kingdom of Bermania is ruled by Alanus I who, with a gentle hand, promotes both humor and numismatics.
Bermania's coat of arms.
Alanus I, for reasons of necessity – with only a few coin collectors living in the secluded valley, in the remote corners of the Balkans, and with King Alanus not levying taxes and hence depending on his bread-and-butter job as a numismatist… – has retreated to a place near the city of New York. That is why the famous meetings of Be.G.O.N., the Bermanian Guild of Numismatists, where in the past more than one certainty of traditional numismatics have crumbled into dust, are often held alongside the New York International Numismatic Convention.
In 2015, as every year, the Bermanic people and a couple of invited guests gathered to listen to the royal speech and to receive a largitio that stood in the tradition of Roman-Byzantine customs. In Bermania, the largitio traditionally consists of baklava that, thankfully, is not thrown into the crowd but presented by the crown prince neatly on a plate.
A rare photographic testimony of Marc Twain's trip to Bermania. © State Archive of Bermania.
This year's speech of His Royal Highness addressed a hitherto unknown manuscript of the author Marc Twain in which he reported on the trip to Bermania that he undertook to get some breeding pairs of the American opossum to the then Bermanian King. On his trip he realized that the opossums found approval not as an asset to the European zoos but were rather acquired by the distinguished zoo directors to make their gorgeous beards look even prettier. Please note: he who has an opossum in his beard will not run short of original topics of conversation at any party!
Mark Twain likewise crossed the native city of the former citizen of Bermania, Munich. The Royal academic elaborating on this stop can certainly be taken as an homage to Ursula Monacensis Burgcomitissa, as Ursula Kampmann was welcomed into the Kingdom of Bermania by King Alanus in his 41st year of reign.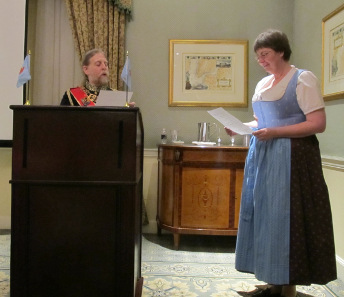 The swearing-in ceremony. Photo: David Sorenson.
In a long and elaborate swearing-in ceremony Ursula Kampmann was proclaimed Burgravine of Munich. She took an oath to rule wisely and justly in the name of Bermania.
The patent of nobility of the newly-minted Burgravine. © State Archive of Bermania.
The patent of nobility was handed over.
The coat of arms of Ursula, Bermanian Burgravine of Munich. Original: State Archive of Bermania.
Henceforth, the Bermanian Burgravine is entitled to a coat of arms: fusily in bend azure and argent, a monk cowled sable, trimmed or shoes gules, dexter hand in benediction, sinister hand holding Historia Numorum gules. Crest, a comitial crown argent, band ornamented by five bezants. Supporters, two chipmunks proper. On a ribbon beneath: Hunde bellen, die Karawane zieht weiter.
The Bermanian Royal Court posing with the newly-appointed Burgravine.
In 2016, too, there will be a meeting of the Bermanian Guild of Numismatists. His Royal Highness will present recent findings on Marc Twain's trip to Bermania.
For more information about the Kingdom of Bermania visit the Bermanian website.
Naturally, the souvenirs of Bermania also include a medal.
CoinWeek presents a proclamation of King Alanus I of Bermania on YouTube.
In his non-royal everyday life His Majesty Alanus I is a coin dealer with a passion for selling coins that tell a story. His website is linked here.
As a coin dealer he has written several book, including "Papal Coins"" and "Papal Numismatic History", which can be bought directly from him – with a royal dedication, if requested.