[bsa_pro_ad_space id=4]
June 17, 2010 – Every year Japan Mint holds the International Coin Design Competition (ICDC) with the objective of encouraging creativity and enhancing the artistry of coin designs. They hope that this competition will lead to the discovery of many excellent works.
Winners 2009
Now the winners have been elected in the categories "Most Excellent Work" (awarded with 500.000 yen), "Excellent Work" (awarded with 200.000 yen) and "Fine Work" (three awards with 100.000 yen each). There is also a "Future Designer" award and the "Jury's Special Award".
The winning design was made by Oleg Gavrizon (Israel). The work is called "The man and his fish". Here are some reasons for the award: "This work has an eerie atmosphere, in which poetic deformation and bold modelling overwhelm with audacious character. The man is fascinated with his fish's adaptability to the aquarium environment for years. He expresses himself in a figure similar to his fish with unique ethnicity which makes this work very conspicuous." (Hasegawa)
The second price was given to Minoru Nakajima (Japan) for the 200th anniversary of Darwin's birth. Mr. Kawasumi writes about this work: This work depicts a portrait: the continuous genre of medals and coins. The placement of the image and excellence of the picture were appreciated by the jury. The arrangement of handwritten memo and islands in the background is also good.
Theme: Alfons Mucha.
Artist: Marie Seborova (Czech Republic)
Fine Work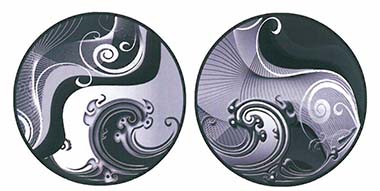 Theme: cantus
Artist: Lili Fu (China)
Fine Work
Theme: Il Giardino della Minerva
Artist: Antonella de Rose (Italy)
Fine Work
Theme: Frula – Serbian Folk Instrument
Djurdjica Horvat (Serbia)
Future Designer
Competition 2010
Those who want to participate in this competition in 2010 will find more information here.