[bsa_pro_ad_space id=4]
October 17, 2013 – Monaco is always worth a visit. And that goes particularly for the first weekend in December when the weather here starts to become rather inclement.
The Salle du Canton right under the castle of Monaco.
In Monaco, though, the sun is still shining. And with these conditions on December 1, 2013 the international coin show 'Grande Bourse' will be held from 9 am to 5 pm at the Salle du Canton.
Over 100 dealers from home and abroad come to Monaco to sell their goods.
This elegant hall looks out on Monaco's harbour and is located right beside the Musée des Timbres et des Monnaies. In this location so appropriate to numismatics over 100 coin dealers from home and abroad will gather.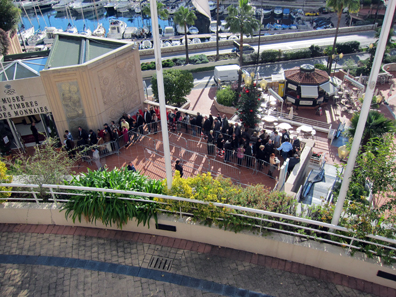 In 2012 one could purchase the new 2 euro commemorative coin with the portrait of Lucien I (1505-1523) at face value. Many collectors did not let this occasion pass up. Let's see how long the queue will be this time for the coin set 2013.
At the same time at the box office of the Musée des Timbres et des Monnaies the new coin set Monaco 2013 in brilliant uncirculated quality will be sold for the first time. Just another sound reason for collectors to come to Monaco!
The coin show is organised by the Numismatic Association of Monaco and Éditions Victor Gadoury, where you will also find further information at Éditions V. Gadoury, 57 rue Grimaldi, 98000 Monaco; or via email or phone: +377 / 93 / 25 12 96.
More information are available on the website of Gadoury.
You can read an auction preview here.
The day before the coin show, Éditions Victor Gadoury will hold their auction sale at Hotel Fairmont. Among the 875 lots featuring rarities from ancient to modern numismatics there is a large collection of coins from the neighbouring harbour city of Genoa.