[bsa_pro_ad_space id=4]
December 10, 2015 – On October 17 and 18, 2015, the NUMISMATA Berlin took place for the 17th time. Stretching back as far as five decades now, already legendary NUMISMATA promised to become another unforgettable event. The list of exhibitors almost read like a who's who of numismatics and philately: coin and stamp trading houses from all over Europe, renowned auction houses, grading services as well as vendors of specialist literature and accessories were present at the hall of the Berlin fairgrounds on this very special weekend.
Well-frequented at the 17th NUMISMATA Berlin was not only the booth of the German Bundesbank (German Federal Bank) where interesting facts about the life-cycle of a banknote were revealed. Photograph: © numiscontrol.
It was no surprise, therefore, that visitors virtually flocked to the venue, with their minds set on acquiring their new favorite collector's item. In the traditional familial atmosphere, this NUMISMATA again provided many opportunities for mingling with collector friends and meeting experts from both Germany and abroad.
The range of numismatical offers was broad. Photograph: © numiscontrol.
Again, the experienced team of organizer Erich Modes and his right hand Angela Mayboroda had done a great job in preparing the event: The range of offers comprised coins from ancient times to the present, historical means of payment, euro coins, precious metals, medals, primitive money, banknotes, shares and historical securities.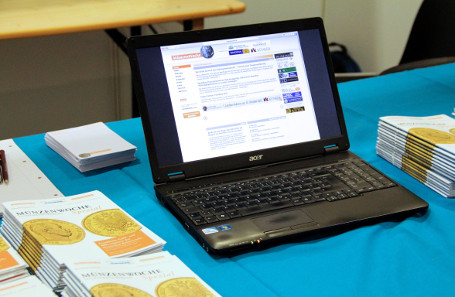 CoinsWeekly Special issue, the official fair catalog in German, was very popular among visitors. Photograph: © numiscontrol.
A special highlight of the 17th NUMISMATA Berlin was the complimentary new fair catalog, published by CoinsWeekly in co-operation with NUMISMATA. It not only contained a complete price guide to Prussian gold and silver coins of the German Empire but also a roundup of what is currently going on in Berlin in terms of numismatics.
Stamp collectors, too, enjoyed many offers. Photograph: © numiscontrol.
At the 17th NUMISMATA Berlin, however, not only the fans of numismatics found everything their heart desired. For five years now, the hall is likewise the venue of a stamp fair for which the entrance ticket was valid as well. A broad range of offers was presented: stamps from classical to modern times, letters from all around the world, postcards as well as accessories and specialist literature. Again, particular attention had been attracted by the United Nations Postal Administration (UNPA) with their white NUMISMATA postcard designed by Austria-based artist Maria Schulz.
In March there will be the next Numismata event in Munich. Photograph: © numiscontrol.
Having attended the successful 17th NUMISMATA Berlin, exhibitors and visitors alike are already looking forward to the upcoming events:
NUMISMATA Munich: March 5 and 6, 2016
NUMISMATA Vienna/Austria: April 8 and 9, 2016
NUMISMATA Berlin: October 15 and 16, 2016
and NUMISMATA Frankfurt: November 5 and 6, 2016