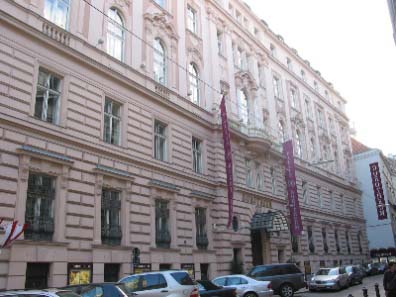 [bsa_pro_ad_space id=4]
November 10, 2011 – 300 years ago the history of one of the world's leading auction houses, the Dorotheum in Vienna, began. This pluricentennial continuity impresses and the Dorotheum's history is intriguing.
freigestelltDas heutige Palais Dorotheum, ein Bau im neobarocken Stil, den Kaiser Franz Joseph I. 1901 einweihte.
The poorest of eighteenth century's citizens of Vienna were often compelled to pawn their belongings just to survive. But the pawnbrokers gave sparse money for high interest rates. Though many pawns remained there. Emperor Joseph I searched for a solution to this unbearable situation and thus founded the imperial pawn office of Vienna, located in Annagasse, in 1707. In this office interests were detained on a lower level and, anyway the interests earned were paid over to charities. But even there some loans were not redeemed. Hence these were auctioned for the benefit of the almshouse.
Today's Palais Dorotheum, a building in neo-baroque style, inaugurated by Emperor Joseph I in 1901.
80 years later the imperial pawn office moved to the monastery of St Dorothy that recently had been dissolved. It was because of this location that the new institution adopted the name of "Dorotheum". During the nineteenth century the pawn office for the poor transformed into an auction house that was socially accepted by the high society as well. The Dorotheum grew continually and a bigger new building became inevitable. In 1901 Emperor Francis Joseph I inaugurated the new Dorotheum, a neo-baroque building.
Almost daily auctions are hold in the Palais Dorotheum even today. A hundred specialists attend to over 40 departments comprising nearly everything one can be looking for in an auction house: Modern Art, Contemporary Art, Old Masters, 19th Century Paintings. Besides there are categories of antiques like glass and porcelain, Art Nouveau, silver, sculpture, furniture, design, jewellery and clocks. In auctions you may come across traditional and modern areas of collecting as e.g. books, coins and medals, autographs, stamps, orders and decorations, historical scientific instruments, historical militaria and weapons. Even toys, model railways, old posters, historical radio technology, vintage cars and vehicles are to be found at the Dorotheum.
The well-known numismatic department is associated with names like Robert Göbl, who directed the department after World War II, when he was still Associate Professor at the university. To him collaborated Helmut Jungwirth, who later became director of the Münzkabinett at Kunsthistorisches Museum Wien.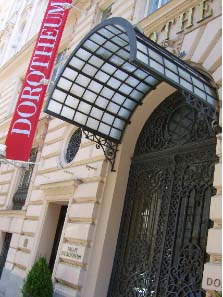 The Dorotheum's entrance. Whoever steps inside not only will run across almost daily auctions. But there is also Vienna's largest antique store, Austria's largest jewellery store and the Financial Service, a loaning expert for 300 years and still market leader in Austria.
Nearly 600 auctions per year take place not only at the Dorotheum in Vienna, but also in the international offices all over the world, from Düsseldorf to Tel Aviv, from Milan to Brussel. Of course the auction house has a website too.
Besides the auction business the Dorotheum in Vienna (and in some other offices) sells offers from various departments at fixed prices at the so-called Gallery, an enormous antique store. The Dorotheum is very much diversified: "Dorotheum Jewellery" is market leader in the jewellery business at 28 stores currently. But the tradition lives on just as well. 300 years after its foundation as imperial pawn office, the Dorotheum acts still as pawnbroker. And of course, even in the 21st century the Dorotheum's "Financial Service" is Austria's market leader too.
More information on the Dorotheum you will find on its website.
The current auctions at the Dorotheum you can see here.
And of course there is a coin auction. For visiting, please click here.