[bsa_pro_ad_space id=4]
May 26, 2011 – When the State of Israel issued a 5 Lirot silver coin in 1958 marking its tenth anniversary of statehood, a tradition began that has continued unbroken for 53 years. The themes for the annual issue have varied widely and have touched nearly every segment of Israeli life and culture. This year, it focuses on geography in the form of a singular and ancient world landmark – the Dead Sea. Considered one of the "Seven Natural Wonders of the World," it is a combination of unique geological and geographical conditions which renders it a natural phenomenon and one of the most striking places on earth.
The Dead Sea's waters today are shrinking fast. As a result of high evaporation and human activity, its intake is much less than the amount of water lost. Its southern part has already completely dried up and become an area of salt deposits. The costly Dead Sea Project which is to bring water from the Red Sea to the Dead Sea, planned together by the Israelis, Jordanians and Palestinians, aims at producing energy, fresh water and further development of tourism. In recognition of these and other efforts, the coin is more than just a metallic tribute. It is dedicated not only to the Dead Sea but also to the importance of preserving this wonder of nature for the future. The design by Meir Eshel is based on a satellite photograph of the Dead Sea region. To the left is a native ibex (wild goat), once an endangered species, which today flourishes on the nearby cliffs.
Quelle: Wikipedia.
The Dead Sea is situated at the lowest point in the world, 420 meters (1,378 feet) below sea level in the Jordan Rift Valley – in the center of a region rich in Biblical history and archeology. It is a region with unique fauna, and in this era, is an important tourist area. It is the deepest lake in the world, with a high degree of salinity, and a wealth of minerals, especially potash and bromine, which are extracted by the Dead Sea Works. As every tourist knows, it has remarkable therapeutic and healing properties and attracts thousands of people who come for treatment. It is surrounded by breathtaking scenery, with salt cliffs weathered into incredible shapes. Its high density waters make it hard to swim in but easy to float on.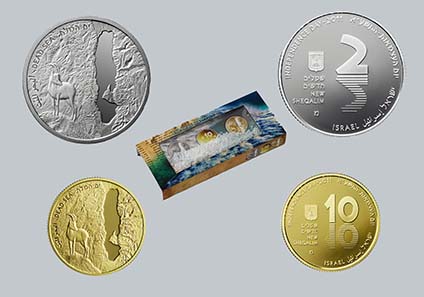 The 63rd anniversary coin comes in three variations: A gold proof-quality 10 New Sheqel (NIS) is 30 mm in diameter with 16.96 grams of .917 fine (22kt) gold. Mintage is limited to only 555 pieces. There are two sterling silver coins. A proof quality 2 NIS measuring 38.7 mm (1.5 in.) and weighing 28.8 grams with mintage is restricted to 5,000 coins, and a 30 mm, 14.4 gram 1 NIS in prooflike condition limited to 1,800 coins. A set of all three coins and just the two silver coins are also available.
For more information on this coin visit this site.