[bsa_pro_ad_space id=4]
by Björn Schöpe
translated by Leonie Schulze
October 18, 2018 – "Have you any hobbies?" a reporter asks John Lennon in the legendary 1964 Beatles movie "A Hard Day's Night". Lennon seems quite secretive as he scribbles one word on a note pad. The reporter is taken aback. I have always wondered what she read on that piece of paper. Maybe it was truth: collecting stamps.
The front cover of John Lennon's Mercury Stamp Album. Smithsonian's National Postal Museum.
Who would have thought that John Lennon was interested in stamps when he was a kid? The late W. Wilson Hulme, former curator at the Smithsonian's National Postal Museum in Washington D.C., admitted: "There are people who think stamp collecting isn't cool, and maybe this will cause them to think twice about that. It just doesn't get any cooler than John Lennon." Hulme knew what he was talking about, because he was the one who acquired Lennon's stamp collection for his museum in 2005. Now it is exhibited along with other objects in Washington D.C. until February 3, 2019.
The flyleaf of John Lennon's album contains several notes that have yet to be deciphered. Smithsonian's National Postal Museum.
John Lennon and collecting stamps, how does that work? Lennon grew up at his aunt Mimi's house and his cousin Stanley Parks was like an older brother to him. Which is why Stanley passed on a lot of things to little John, including 300 Dinky Toy Cars – and his green stamp collection album featuring the head of Mercury on its cover. John immediately erased his cousin's name and noted his own one as well as his address: the legendary house at 251 Menlove Avenue in Liverpool, also referred to as Mendips.
He might have loved stamps – but young John did not show a lot of respect for the portraits of rulers. Smithsonian's National Postal Museum.
John's anti-conformist side, which he retained for the rest of his life, became apparent very early on: he embellished the beardless King George VI with a beard much like Perreault's Bluebeard on the first page of his album.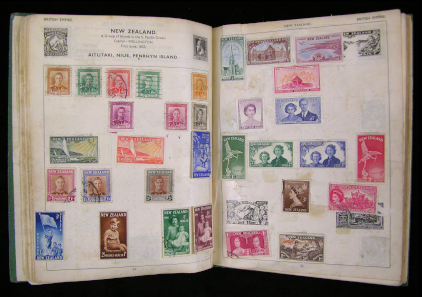 John mostly collected stamps from New Zealand. This was due to the fact that he had numerous relatives who lived on the other side on the globe and whom his aunt corresponded with on a regular basis. Smithsonian's National Postal Museum.
The album contains primarily stamps from New Zealand. The reason behind this is pretty straight-forward: a lot of his relatives, whom his aunt corresponded with regularly, lived in the far-away country – at a time when a telephone call to the other side of the globe cost a fortune and WhatsApp was not yet invented. It appears as though the stamps' colors were a more important criterion for the young collector than their rarity. Curator Hulme noted that that was not at all unusual.
The British pages are well filled, too. John Lennon bought and traded stamps for years. Smithsonian's National Postal Museum.
According to a letter his cousin Parks wrote to the Smithsonian in 2005, Lennon was nine or ten years old at the time. For years, he diligently added stamps to his album and it appears as though he also wrote down the amount of collected pieces on the first page. The numbers are somewhat puzzling. We find 565 stamps on the 150 yellowed pages of the book. On the album's flyleaf we can see the number 800 having been crossed out, below it says 657. Did John attempt to collect a total of 800 stamps? Did he remove dozens of pieces after his last count?
In 1956, philately lost its votary to a superior opponent – rock 'n' roll. John Lennon founded his first band, The Quarrymen, and left behind his Mercury Album in his childhood room. The rest is music history.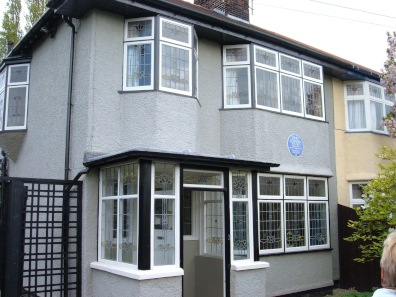 John grew up at "Mendips", the house at 251 Menlove Avenue in Liverpool. Here, he wrote some of the first Beatles songs – and pursued his childhood hobby, philately. Photo: Havaska / CC BY-SA 3.0.
The following path of the album is less obvious. His childhood home was bought by Yoko Ono in 2002 and she donated it to the National Trust. The collection then showed up for the first time at Christie's. Stanley Gibbons, a specialist auction house for philately, acquired the small book in 2004 and in turn offered it for 50,000 dollars. Curator Hulme snatched it. He was well aware of the chance it offered: "These days fewer young people are coming into the hobby. We're very interested in getting their attention, which is one of the reasons we were so interested in this collection."
As the auction house could not offer a lot of information regarding the album's origin, Hulme did his own research and got Lennon's cousin to verify that it was in fact the album he had once given to John as a gift.
Stanley Parks could also explain why collecting stamps was so popular at a time before Google Maps was invented: "Stamp collecting was very good for improving one's Geography Lessons at School." In fact, Lennon's knowledge of this field speaks for itself. In the aforementioned movie, another reporter asks him "How did you find America". John replies "Turn left at Greenland." It doesn't get any cooler than that. And if that isn't a reason for young people to once again start collecting stamps, I don't know what is.
More information about the collection is available on the National Postal Museum website.
You can find the "A Hard Day's Night" trailer on YouTube (skip to 0:48 for the "geography comment").