[bsa_pro_ad_space id=4]
May 14, 2015 – Alexandre Carathéodory Pasha (or Karatheodory; 1833-1906) was a prominent Greek scholar, diplomat, and statesman in the Ottoman Empire. Carathéodory was born in Constantinople to an eminent Constantinople Phanariot family. His father, Stefanos Carathéodory, was the personal physician to Sultans Mahmud II and Abdul-Aziz. His mother's ancestors, the Mavrocordatos and Mourousis, had for centuries served as Princes of Moldavia and Wallachia.
Alexandre Carathéodory Pasha. Source: Wikipedia.
After obtaining a doctoral degree from the Paris Faculty of Law, Carathéodory pursued a career in the public service of the Ottoman Empire. In 1874, he was appointed ambassador to Rome. In 1878, as Vice Minister of Foreign Affairs, he participated in the preliminary negotiations with Russia that led to the Treaty of San Stefano, ending the Russo-Turkish War (1877-1878). Later that same year, Sultan Abdul-Hamid II dispatched Carathéodory to Germany as head of the Ottoman delegation to the Congress of Berlin. His skillful negotiations with various European statesmen, including Bismarck, Disraeli, Salisbury, and Gorchakov, resulted in the revision of the San Stefano peace terms in favor of the Ottoman Empire (Treaty of Berlin, 1878). Disraeli characterized Carathéodory as "full of finesse and yet calm and plausible." During the Berlin negotiations, he had the opportunity to discover in his French counterpart, William-Henri Waddington, a common interest in ancient Greek culture and civilization. Waddington told Carathéodory of his archaeological pursuits and the collection of ancient coins he had assembled in Asia Minor.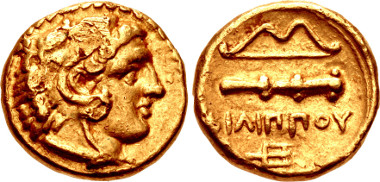 KINGS of MACEDON. temp. Philip II – Alexander III. Circa 340/36-328 BC. Quarter Stater. Le Rider 76 (D51/R36′); SNG ANS 224; NAIM-BAN 61 (same dies). Good VF. CNG 99, Lot 68. Estimate: $1,000.
Upon his return to Turkey, Carathéodory was appointed Governor-General of Crete with the task of calming the escalating tensions between the island's Christian and Muslim inhabitants in a situation that was approaching civil war. Soon, however, he was called back to Constantinople, where he became Minister of Foreign Affairs of the Ottoman Empire (1878-1879). He was the only Greek to ever occupy such a prominent position. In 1884, the Sultan appointed him Prince of the autonomous Greek island of Samos (1885-1894). It is during those nine years, and inspired by Waddington's enthusiasm for ancient coins, that he took up coin collecting and assembled a collection.
In addition to his political career and historical pursuits, Carathéodory translated from Arabic to French the "Traité du Quadrilatère, attribué à Nassiruddin-El-Tussin", a seminal work on the mathematics of the 13th-century Persian astronomer. He also authored research papers and scholarly essays on Aristotle's "Meteorology", Homeric studies, as well as a series of mathematics theses that are still in use. Their shared interest in mathematics forged a bond with his nephew, Constantine Carathéodory, a professor of mathematics at the University of Munich, who contributed to the research of thermodynamics and the development of Albert Einstein's theory of relativity (vide "Encyclopaedia Britannica").
CRETE, Knossos. Circa 300-270 BC. Drachm. Svoronos, Numismatique 70; SNG Copenhagen 374. Fine, toned. CNG 99, Lot 153. Estimate: $500.
In 1895, amid renewed religious and social tensions in Crete, Abdul Hamid II appointed Carathéodory as Governor of the island for a second time. Unsuccessful once again in restoring order, Carathéodory resigned the post in December of the same year and was appointed First Translator to H.I.M. the Sultan. In his book, "Constantinople, City of the World's Desire", Philip Mansel notes that Abdul Hamid called Carathéodory "a man with remarkable ability, not only the cleverest diplomat in Turkey, but one of the cleverest in Europe." In 1901, Carathéodory attended the funeral of Queen Victoria as a member of the Ottoman delegation. This was his last official assignment.
His funeral in 1906, in Constantinople, was officiated by the Patriarch and all the Holy Synod. It marked, according to Mansel, the end of the Phanariot tradition begun by his Mavrocordato ancestors. In 1923, after the Greek War for Independence from Turkey, his children and grandchildren left Turkey. Some of them settled in Greece, others in Egypt, Switzerland, and Belgium.
ISLANDS off CARIA, Rhodos. Kamiros. Circa 500-480 BC. Stater. SNG Keckman 317; HGC 6, 1382. Near VF, toned. CNG 99, Lot 272. Estimate: $1,000.
His coin collection was passed on to Catherine Pilavachi-Carathéodory, who was the daughter of Stefanos A. Carathéodory, the eldest son of Alexandre Carathéodory Pasha. Catherine and her family left Egypt for Lausanne, Switzerland in 1961. The collection was inherited by Catherine's son and Alexander's great-grandson, Paul Pilavachi, who is its current owner.
A selection of coinage from the collection of Alexandre Carathéodory Pasha is one the highlights of CNG 99, an Internet and Mail Bid Sale conducted by the Classical Numismatic Group.
A preview of the auction CNG 99 you may find in CoinsWeekly.
To get to the website of the Classical Numismatic Group please click here.