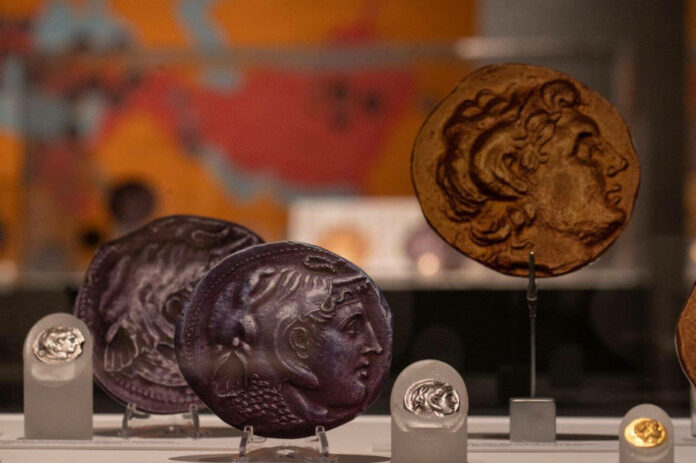 [bsa_pro_ad_space id=4]
The current winter exhibition at Nickle Galleries, University of Calgary – The Birth of Portraiture: Alexander the Great & His Successors (until April 29, 2023) explores historical acculturation of Eastern and Western worlds, and the representation of power and identity on ancient coins.
The Birth of Portraiture: Alexander the Great & His Successors explores the exquisite portraits of Alexander the Great and his successors who were ancient Greek rulers in the East. They are the unprecedented realistic representations of the human likeness, the first of their kind. The portraits are delicately struck on silver blanks transforming into tiny masterpieces of Hellenistic art. The tradition of portraiture in the West extends back to antiquity and particularly to the Hellenistic age (323-30 BCE), a period dominated by a fusion of Greek language and customs with the cultures of the Near East. This is when lifelike depictions of distinguished men and women appeared for the first time. After many centuries in which cold, idealized, generic representations had been the norm, distinctive portrait likenesses began to appear at end of the 4th century and the early 3rd century BCE – starting with Alexander the Great (356-323 BCE). This change reflected a new growth of interest in individuality and our special uniqueness.
The portraiture of the ruler was an effective and persuasive means of projecting the qualities of the monarch. This style, expressed in the serene images of the king, is intended to perpetuate the transcended human limitations of the otherwise mortal ruler. They depict in fine detail not only the person's features about whom we often know so little, but also indicate how they were devised to be seen.
"In antiquity, portraits functioned just as photographs today," says Marina Fischer, the exhibition curator, "They were one of the most innovative features of that time. Our relatively recent obsession with selfies, the self-portraits posted on social media, has the same origin as the Hellenistic individual depictions, which function as a self-study with the aim of a better understanding of oneself, and how we connect with others."
Nickle Galleries is a creative hub in the heart of campus, and an academic art museum with important collections of Western Canadian art, ancient numismatics and Asian textiles. With such unique and unusual collections, the Nickle aims to foster critical discourse about art, culture, and education.
From 29th to 30th April 2023 the numismatic symposium "Power, Identity and Alexander the Great" will be held organized by Nickle Galleries, University of Calgary in partnership with the Calgary Numismatic Society.
For further information, visit the exhibition website.
The Nickle Galleries present regularly numismatic exhibitions. Last year they took a look on "Animals in the History of Money".
An earlier exhibition presented the History of Numismatics in Calgary.
Make sure to read Ursula Kampmann's article on "Alexander the Great" in the series "Human Faces".