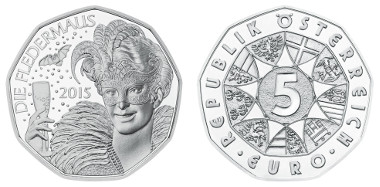 [bsa_pro_ad_space id=4]
December 18, 2014 – Austrian Mint has issued its new 5 euros silver coin celebrating the renowned Johann Strauss operetta celebrating a bat at a formal dance, "Die Fledermaus".
Austria/ 5 EUR/ Silver .800/ 28.5 mm/ Designer: Helmut Andexlinger (obverse), Thomas Pesendorfer (reverse)/ Mintage: 50,000.
On this silver coin one sees The Bat fluttering above the sparkling bubbles of a seasonal glass of champagne held by Rosalinde. Rosalinde, one of the main characters, is holding the glass in her gloved right hand, dressed in her finest ball dress with an elaborately feathered collar, and a double string of pearls around her neck. Her ornate facemask is accented by more feathers, which float above her extensively coiffured hair. The year of issue, 2015, as well as the name of the operetta, "Die Fledermaus" (the bat), are also seen on the reverse of the coin. This side of the coin was designed and engraved by the mint's Master Engraver Thomas Pesendorfer.
The obverse of the nine-sided coin is the standard 5-euro design, with the denomination encircled by the shields of the nine federal provinces of Austria. In the center is the face value of 5 euros. Mint engraver Helmut Andexlinger designed the obverse.
Johann Strauss gave the world so many memorable treasures of the music. Of course, the "Blue Danube Waltz" which annually is first tune played in Austria after the clock strikes midnight on December 31, welcoming in the New Year. Many regard the "Blue Danube Waltz" as Austria's unofficial national anthem. The life of Johann Strauss has been featured in several films and even Walt Disney movies. Music from "Die Fledermaus" was used in a Tom and Jerry movie back in the 1950's.
The story line of the operetta Die Fledermaus is light-hearted, complex, and at times even confusing with its many twists and turns. An official gets offended because of a drunken misunderstanding, and throws his weight around. Then others get involved to protect their loved ones, which all works very well under the guise of a masked ball. Someone is sent to jail, and still others pretend to be someone they are not. Confusion builds until finally someone declares the whole thing is an act of vengeance largely because of the love triangle in which Rosalinde is the key female
More about Austrian Mint and its products on the company website.
Listen to the overture of "Die Fledermaus", performed at the Vienna New Year's Concert 2010.