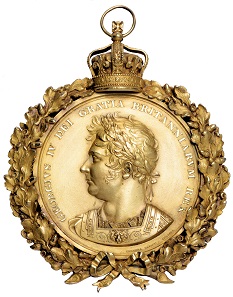 [bsa_pro_ad_space id=4]
September 20, 2018 – The auction to be held by Baldwin's of St. James's on September 26, 2018 of the Peter Earthy Collection of British Proclamation, Accession, Coronation and related Medals will include the unique accession medal made at the request of George IV for presentation to his 52-year-old sister, The Princess Augusta Sophia (1768 – 1840), the sixth child and second daughter of George III and Queen Charlotte.
The unique accession medal made at the request of George IV.
The medal was made by the Royal goldsmiths and jewellers Rundell, Bridge and Rundell, much favoured by George IV and, most unusually, bears the maker's mark of Philip Rundell himself. The obverse shows a stunning portrait of the new King, his laureate and draped bust turned to the left, whilst the reverse notes the date of his accession. The whole is set within an exceptional oak wreath skilfully worked in high relief.
When Laurence Brown published the first volume of his British Historical Medals, in 1980, he was so impressed with this medal that he devoted a whole page to illustrating it – the only medal in all three volumes to get such treatment. He published alongside the records of Rundell, Bridge and Rundell clearly demonstrating that the medal was a special piece intended for Princess Augusta.
A portrait of Princess Augusta Sophia by William Beechey.
Quite when, where and, indeed, how Princess Augusta wore the medal remains unexplained and, sadly, the auctioneers know of no portraits showing her displaying it. Princess Augusta never had a recognised marriage, but in 1812 she had asked her brother George, by then Prince Regent, for his consent to marry General Brent Spencer. The court gossip was that Augusta and Spencer had secretly married, but nothing definite can be confirmed. Spencer was a long serving army officer who had seen action in North America and in the Peninsular War when he had twice been Second-in-Command to Wellington. He had been appointed an equerry to George III in 1803. Between 1815 – 1818 he was MP for Sligo Borough; he died in 1828.
The medal, which is in superb condition, is held in a specially made fitted case. It carries a pre-sale estimate of £5000-8000. It is but one piece in a magnificent collection of some 800 and is full of spectacular examples and rarities that will be sold in the 450 lot auction. Stephen Fenton, who will be conducting the auction, said, "A truly beautiful medal and a royal provenance, make this medal something quite out of the ordinary. And, without hesitation, we can say that it is unique".
The catalogue of BSJ Auction 21 is available online.
The Encyclopaedia Britannica offers a detailed biography of King George IV. A short documentary clip by the History File series also tells you more about his life and reign.