[bsa_pro_ad_space id=4]
December 13, 2018 – The American Numismatic Association website has expanded recently, and part of that expansion is the growth of its museum into virtual space. If offers a virtual tour of the Money Museum from your preferred internet device!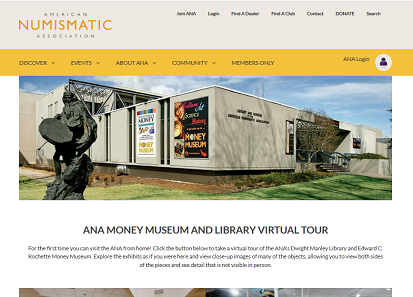 The ANA Virtual Museum is easily accessible from any internet device.
The centerpiece of the Virtual Museum is the Virtual Tour, where you can "walk" through the current exhibits and see details of the objects on display from the comfort of your home. Additional pages within the Virtual Museum are updated on a regular basis with new material, and can be found on ANA website under the heading of "Discover." From there you will see a drop-down menu with a number of selections – if you hover over "Money Museum" at the top, you will see the areas of the website related to the museum.
The World War I exhibit shows coins and paper money from combatant nations.
The first choice is the World War I Exhibit. This page highlights the featured main floor exhibit, which changes about every 18 months (with the old exhibit continuing to exist in virtual form once the physical exhibit ends). The page includes an overview along with links to the virtual display cases and other ANA pages of interest, including articles from The Numismatist and related websites.
Next is the Virtual Exhibits, featuring a selection of displays ranging from the current "live" exhibits to online displays like the Bebee Collection, where over 500 examples of U.S. paper money can be accessed by date, denomination, state, etc. Smaller, single-case displays allow you to "click" on an object and see a close-up image – you can view numismatic objects in more detail here than you can in person! If you have a smart phone, you can even view the virtual version of the exhibit as you see the actual display.
A great new feature is the Virtual Collection – where ANA members can gain access to the Money Museum collection online. You can get to this page via the Virtual Exhibits page (Online Collection) or from the "Discover / Money Museum" drop-down menu. Once you have logged in, you can explore the collection in a number of ways (instructions are provided). The site features over 20,000 objects with descriptions and high-resolution images. You can get your password by becoming an ANA member.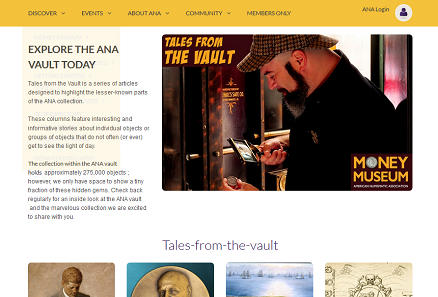 Tales from the Vault is a series of articles designed to highlight the lesser-known parts of the ANA collection.
Finally, make sure to visit the Tales From the Vault page where you will find stories about items in the Money Museum collection. You can learn about rare Cocos Island tokens, Red Cross medals of WWI, 1792 Half-dismes, 1804 dollars or even Assignats from the French Revolution.
More information on the ANA Money Museum is available online.