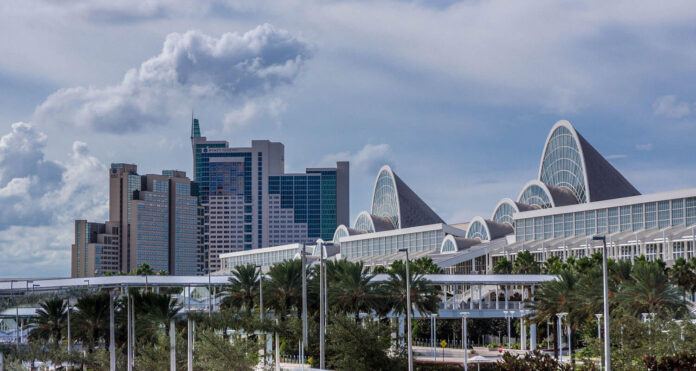 [bsa_pro_ad_space id=4]
The 16th Summer FUN Convention is approaching! After the desastrous Covid-19 year eventually the big coin show will take place again from July 8-10, 2021 in Orlando (Florida) at the Orange County Convention Center – and bigger than ever. As FUN secretary Cindy Wibker told CoinsWeekly, at FUN "usual summer shows are about 200 booths. This one will be 265-270, sold out."
The opening of the doors will be at 10:00 AM, following the welcoming ceremony which will start at 9:45 AM on July 8. There will be a lot of free give aways during Summer FUN as the organizers assure.
What Covid Measures Do You Have to Observe Attending Summer FUN?
Orange County Covid Protocols will need to be followed in July although it is still no clear what they will be exactly. The organizers will require all attendees to Summer FUN to complete a Covid 19 Liability Waiver Form prior to entering the bourse floor. Print it from this link and bring the completed form to the dealer or public registration booth.
To guarantee that even if public giudelines may be lossening, FUN announced their criteria months ago and will continue with the same protocols in place. "Some of our attendees are coming only because of these guidelines", says Cindy Wibker, "which they feel will help keep them safe and protected. So even if the guidelines from the CDC have changed, ours will be:
Face coverings are mandatory and must be worn properly covering the mouth and nose. Masks or shields are fine.
Everyone will receive a temperature scan daily, and colored wristbands will be affixed to those who are okay to enter the exhibit hall.
There are hand sanitizer stations throughout the building, and FUN has 700 4-ounce bottles. Each dealer will receive a bottle on their table, and we'll have some to give to the public, also.
We ask our attendees to socially distance to the best of their ability and be respectful of the space of others. Dealers will control how many people can be at their table at any given time.
We also have liability release forms for each attendee to sign. The form states they know of the possibilities regarding the virus, and also that they will abide by FUN's guidelines or they may be removed from the hall.
At this time face coverings are also mandatory in the hallways and open areas of the Orange County Convention Center (OCCC). They control those areas and FUN controls inside the exhibit hall. Also at this time the OCCC will set the meeting rooms for 50% capacity, but that may change between now and July."
What Seminars and Workshops Does FUN Offer?
Sadly the U.S. Mint was not able to get authorization to travel to Summer FUN this year. But Sam Gelberd from the ANA working the Coin & Kids booth and the Piedmont Gold Panners will be on site.
Randy Campbell has lined up four Educational Seminars, two each on Thursday and Friday afternoon.
Visitors will also see the non-competitive exhibits available for viewing. If you want to display your coins you can get with Bob Russell. His deadline was the June 1 but if you have a good display maybe you can sweet talk into displaying it during Summer FUN.
How Do You Get to the FUN Show?
FUN will be providing a shuttle bus from the West Concourse parking lot to Hall WE1. If the West Concourse parking lot gets full the Orange County Convention Center will provide a free shuttle from the off site parking lot to our convention hall. Parking fees for the FUN Show is $10.00. Make sure you tell the parking attendant you are with the FUN show to get your discounted rate.
Are There Any Room Blocks For FUN Visitors?
Get your hotel reservations in early. The hotels are now taking reservations for Summer FUN. For room blocks, you can email Reservations for FUN Show Hotels. Make sure you are in "the right place" by always going to WWW.FUNTopics.com and clicking on the Official Hotel page. Our hotel housing bureau will never call or email requesting you book your room and they will never post a deadline to book. Avoid the scammers and book ONLY through the FUN website. Our hotels are giving us ridiculously low rates for the Orlando area, so book your rooms early and lock in those values.
Please be careful of callers or emails using phishing tactics claiming to be associated with FUN. These scams have become extremely aggressive.
For up to date information about all FUN shows go to the FUN website.