[bsa_pro_ad_space id=4]
Numismatic Guaranty Corporation® (NGC®), Numismatic Conservation Services® (NCS®) and Paper Money Guaranty® (PMG®) have appointed Taisei Coins Corporation, a leading Japanese numismatics firm, as an Official Submission Center.
The 50-year-old company based in Tokyo will accept collectibles to be submitted to NGC, NCS and PMG. Taisei can also answer questions about the companies' services and benefits. Submitters of coins and banknotes through Taisei must be Taisei Coin Club members.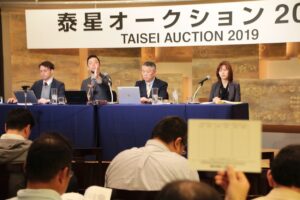 "We are honored to have such a venerable company as Taisei become an Official Submission Center," said Mr. Steven R. Eichenbaum, CEO of CCG. "We look forward to working closely with Taisei to serve the coin and paper money collecting hobbies in Japan."
Mr. Masahiro Oka, President of Taisei Coins Corp., said he anticipates significant benefits for numismatics in Japan with the help of the CCG companies' expert services.
"Taisei and CCG have worked together for quite some time, and our customers trust the expertise and integrity of NGC and PMG's grading services," Mr. Oka said. "It also is a great honor for us to be appointed to be a CCG Official Submission Center. We will continue to work closely together in the service of the numismatic community in Japan."
Taisei Coins will ship the collectibles to the companies' headquarters for authentication, grading, encapsulation and, if requested, conservation. Once complete, the submissions will be returned to Taisei, which will return them to the submitters.
Taisei Coins becomes an Official Submission Center as the CCG companies have expanded rapidly internationally to meet the increased demand from collectors and dealers around the world. CCG has offices in Shanghai, Hong Kong, London and Munich as well as 15 Official Submission Centers around the world. Taisei Coins is the third Official Submission Center to NGC, NCS and PMG in Japan. World Coins Japan was appointed in 2015 and Daruma International Galleries was appointed in 2018.
Taisei Coins handles both modern and vintage coins and is one of the biggest numismatic companies in Japan. Founded in 1967, the company has played a significant role in introducing the hobby of collecting coins, especially Western coins, to the citizens of Japan and has helped make numismatics an enduring part of the country's culture.
It has published the numismatic magazine "Taisei Monthly" since 1971. The publication continues to be one of the few magazines on the subject in Japan. Taisei Coins also has published Japanese translations of several influential numismatic books, including R.S. Yeoman's "A Catalog of Modern World Coins" (Whitman Publishing).
Taisei Coins is the official Japanese distributor of many major overseas mints, including the Royal Mint of Great Britain, Monnaie de Paris of France and China Gold Coin Inc.
Its involvement in coin auctions dates from 1988, when it held a joint sale with the prestigious UK-based firm Spink & Son Ltd. Auctions have been an integral part of the business since 2011. It spun off its auction division into Taisei Auctions, a subsidiary company of Taisei Coins, in 2017.
Today, Taisei holds a large-scale public auction every year at the Tokyo International Coin Convention (TICC) along with online auctions throughout the year. TICC, the biggest coin show in Japan, which celebrated its 30th anniversary this year, was the brainchild of Mr. Masamichi Oka, the founder of Taisei Coins and the chairman at the time of the Japan Numismatic Dealers Association. He is the father of the company's current president.
You can find more information about Taisei Coins on their website (only available in Japanese).
If the Japanese realm of numismatics is relevant to you, you might want to check out the website of the Japan Numismatic Dealers Association.
More information on the NGC can be found on their website.