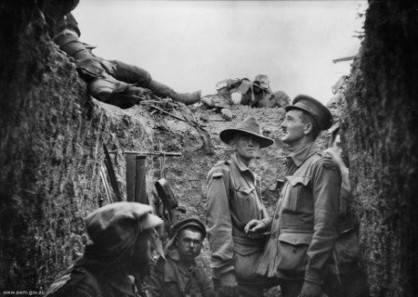 [bsa_pro_ad_space id=4]
May 21, 2015 – Australia's newest coloured circulating coin remembers the Anzacs and has entered public circulation. The coin was released as part of the Royal Australian Mint's Official Anzac Centenary Coin Program where a collection of commemorative coins capture the history, service and sacrifice of Australians at war.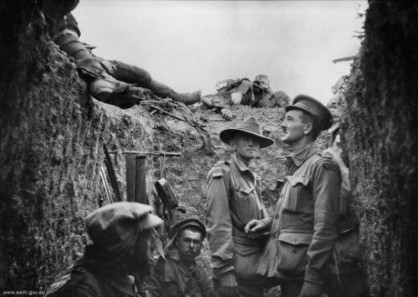 Captain Leslie Morshead in a trench at Lone Pine after the battle (1915). Source: Wikipedia.
Parliamentary Secretary to the Treasurer, the Hon Kelly O'Dwyer, said the Anzac Centenary is one of the most significant periods of commemorations for Australia so it is fitting to see this theme on a coin at this poignant time.
"There will be approximately one and a half million coins released into circulation over the coming weeks which will provide an opportunity for the public to be able to secure a keepsake for the Centenary without having to purchase one," said Ms O'Dwyer.
"The poppy red colour print which features on the coin makes it even more special and symbolic attracting the public's attention and encouraging them to find out more about the significance and commemoration of those who served and made sacrifices for our country."
Australia / 2015 / $2.
The special coin, designed and produced by the Royal Australian Mint, depicts a centrally sculpted and emotive design. It features poppies, symbolic of remembrance, amongst crosses used to honour the fallen and mark the graves of unknown heroes. Inspired by the poppy, the distinctive and powerful red coloured print encapsulates the solemn words 'Lest We Forget'.
The Royal Australian Mint CEO Ross MacDiarmid said that the Mint is one of two mints in the world which produces colour print on circulating coins and the team has worked hard to ensure the integrity of the design is upheld.
"When working with such a significant theme like the Anzac Centenary we take a lot of care in making sure the design and colour application is appropriate for the theme," said Mr MacDiarmid.
The new coin was officially launched at the Anzac Centenary March hosted by the Parliamentary Secretary to the Treasurer in partnership with the City of Stonnington and the Higgins Centenary of Anzac Committee. The March included descendants of those who served in the First World War.
For more information about the Royal Australian Mint's Official Anzac Centenary Program please visit the website of the mint.
More information on the Battle of Gallipoli you may find on this History website.
And pictures and videos about the Anzac Day 2015 you may watch here.