[bsa_pro_ad_space id=4]
April 26, 2018 – On 26 April 2018, the Federal Mint Swissmint continues the three-part Swiss steamships series which started in 2017 with the La Suisse steamship silver coin.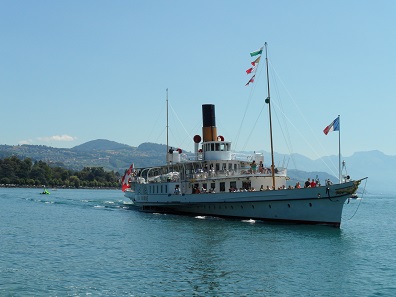 La Suisse on Lake Geneva. Source: Gestumblindi / CCO.
When the steamship "La Suisse" was commissioned by the Sulzer brothers in 1908, the Belle Époque euphoria in Switzerland had just peaked. The "La Suisse" paddle-wheel steamship was to become the largest and most elegant of all Swiss steamships. It has capacity for 850 passengers, is 78.5 metres long and 15.9 metres wide and is powered by a sloping 1400 hp (1030 kW) two-cylinder hot steam composite engine from Sulzer. The steamboat, which had already received an award as a cultural monument of national importance, was also declared to be an historical monument by the canton of Vaud in 2011.
Switzerland / 20 CHF / Silver .835 / 20g / 33mm / Design: Ueli Colombi / Mintage: 5,000 (Proof), 29,000 (standard coinage uncirculated).
Over the years, the steamboat has undergone a number of technical and structural changes: in 1960, a switch occurred from heating with coal to heavy fuel oil and changes were made to the curved decks on the main and upper decks. In 1971, a new, cost-saving large boiler was installed, as well as a new wheelhouse and a new side entrance to the saloon; unfortunately, both are not as successful from an aesthetic point of view. In 1999, heating operation was changed from heavy fuel oil to light oil. In 2003, the electrical infrastructure was partially re-furbished. "La Suisse" was extensively renovated between 2007 and 2009. Since then, it has been navigating the "Haut-lac" part of Lake Geneva from Vevey to Thonon. The drawing for the 20-franc silver coin comes from naval painter Ueli Colombi, as was the case for the Uri steamship silver coin last year.
For additional information on the coin go to the Swissmint website.
Admire the "La Suisse" at full speed!
Do you want to book a tour on the "La Suisse"? Take a look at the website of the operating company where the steamboat is presented.