[bsa_pro_ad_space id=4]
February 18, 2016 – The initial coin of the three-part "FLORA ALPINA" issued by the Federal Mint Swissmint is devoted to the Alpine Edelweiss. As Alpine symbol par excellence, this flower has achieved cult status. It symbolises beauty, desire, honesty, purity, and courage.
Switzerland / 10 Francs / Aluminium Bronze (outer ring) and Cupro-Nickel (core) / 15g / 33mm / Design: Jenny Leibundgut / Mintage: 30,000 (Uncirculated) and 6.000 (Proof).)
The new 10 Swiss francs coin is available in limited edition in Uncirculated and Proof. The design of the new 10 Swiss francs bimetallic coin has been created by Bern-based graphic artist Jenny Leibundgut.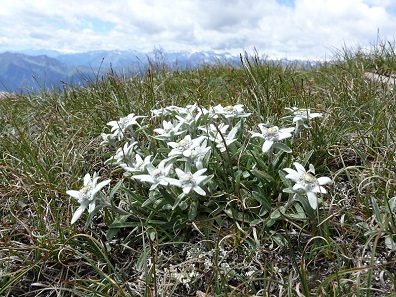 Alpine Edelweiss. Photograph: Bernd Haynold / https://creativecommons.org/licenses/by-sa/3.0/deed.en)
Contrary to popular belief, the Alpine Edelweiss is not at all a plant that is only found on steep rocky slopes. Although it also grows on rocky terrain, it feels much more at home in Alpine pastures as it originated in high-altitude plateaus. Due to excessive picking, however, the flower was almost completely wiped out to the point that nowadays it is very often found only in areas that are difficult to access. So, finding an edelweiss in the wild is a rare stroke of luck. It is more commonly seen in tourism advertisements and on fashion items or souvenirs. Anyone bold enough to pick this rare and difficult-to-access flower for his beloved will certainly be rewarded.
Please find the internet presence of Swissmint here.
More information on this issue is available here.
For visiting the website of Jenny Leibundgut, please click here.
And if you would like to know why Asterix the Gaul is concerned with the Alpine Edelweiss, please click here.