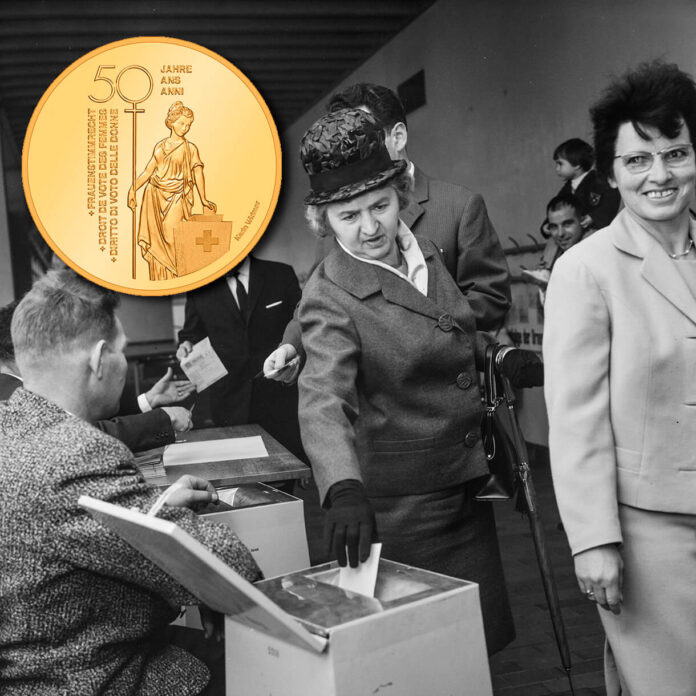 [bsa_pro_ad_space id=4]
On 29th April 2021, the Federal Mint Swissmint will launch a new commemorative coin. With the gold coin "50 years of Swiss women's right to vote", Swissmint is commemorating the introduction of votes for women at federal level.
Women's efforts to achieve equal political rights date back to the 19th century. After a long battle, women's suffrage (the right to vote and take part in elections) was finally introduced in Switzerland by a national vote on 7th February 1971 and formally took effect on 16th March 1971. Fifty years ago, the electorate voted to give women the right to vote and take part in elections at federal level, with a clear majority of 66%. In the subsequent National Council elections in October 1971, eleven women were elected. Over the years that followed, the proportion of women in the National Council grew steadily, and currently stands at 42%.
On 7th February 2021, the introduction of women's suffrage at federal level had its 50th anniversary. Swissmint is commemorating this important milestone in Swiss political history with a 50-franc gold coin, created by Karin Widmer, graphic designer from Wabern near Bern.
Design of the coin
The artistic design of the gold coin was carried out by Karin Widmer, born in 1966, who lives in Wabern near Bern. She attended the School of Design in Bern and then worked for several years as a graphic designer / illustrator. She has been running her own studio since 1995 and uses her illustrations, sketches and cartoons to design newspapers, teaching aids, books for children and young people as well as CD covers and a special stamp for Europe.
29th April 2021
The gold coin "50 Years of Swiss Women's Suffrage" will be issued and on sale on 29th April 2021. On the same date, a silver commemorative coin on the subject of "Illusion – Viaduct of Life" is released.
Other Swissmint coins can also be found in our Cosmos of Collectibles database.
Here you will find an overview of all Swiss commemorative coins from 2021.
Further information on coins from the Swissmint can be found on the Swissmint website.
The Swiss Parliament gives an overview on the history of women's suffrage in Switzerland.
Can you spare 3 minutes? Learn more about the topic in a short video: