[bsa_pro_ad_space id=4]
May 13, 2010 – The Federal Mint Swissmint is dedicating a commemorative coin to the person and work of Henry Dunant.
20-Franken "Henri Dunant", 835 silver, 20 g, diameter 33 mm, date of issue: June 3rd, 2010, mintage: 50.000 uncirculated, 7.000 Proof
The occasion is the centenary commemorating the death of the founder of the Red Cross and first winner of the Nobel Peace Prize. On 8th May – World Red Cross Day – the coin was presented for the first time in parallel in East and West Switzerland. In Heiden, Canton of Appenzell Ausserrhoden, Kurt Rohrer, General Manager of Swissmint, handed over the coin to ICRC President Jakob Kellenberger during a celebration opening the Dunant Year. On the same day, the commemorative coin was presented in Geneva where the kick-off celebration for the commemorative year took place in honour of the two Red Cross founders Dunant and Moynier.
Symbol for the Red Cross movement
Swissmint organized a competition to find the designer of the coin. Five renowned artists from West Switzerland took part. The jury was composed of representatives of the Swiss Confederation, the Swiss Red Cross and the "Dunant 2010" association, among others. They finally declared Geneva artist Pierre-Alain Zuber the winner.
The coin shows Dunant as a dynamic and relatively young man. The curved lines in the background indicate a globe and therefore refer to the world-wide Red Cross movement. The spiral symbolizes the continuous development of the Red Cross and also Dunant's turbulent life.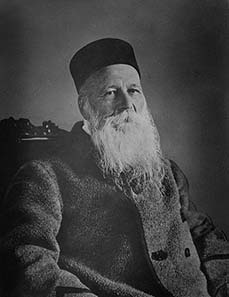 Henri Dunant – Pierre-Alain Zuber was impressed by the gentleness, the compassion but also the strength of will emanating from his eyes.
This is what Pierre-Alain Zuber has to say about his artistic confrontation with Henry Dunant: "I was impressed by the gentleness, the compassion but also the strength of will emanating from his eyes."
Silver coin obtainable in June
The silver coin has a face value of 20 Swiss francs and is available in the minting qualities "uncirculated" and "proof" in a presentation case (highest minting quality) from coin dealers, banks and at www.swissmint.ch and in a special package at the Henry Dunant Museum in Heiden from the date of issue, 3rd June 2010. The proceeds from the sale, the minting profit, will go to support cultural projects throughout Switzerland.