[bsa_pro_ad_space id=4]
January 25, 2018 – The Federal Mint Swissmint starts a new three-part commemorative series on 'Swiss Alpine passes'. The first silver coin is dedicated to the Klausen pass.
Switzerland / 20 CHF / Silver .835 / 20g / 33mm / Design: Vito Noto / Mintage: 30,000 (uncirculated), 5,000 (Proof).
It was designed by industrial designer Vito Noto from Cadro.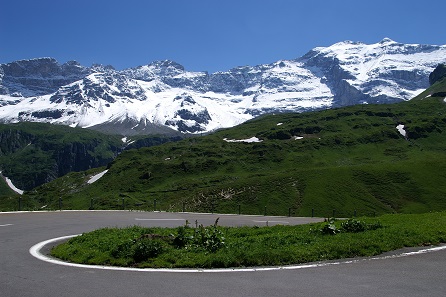 The Klausen pass links the cantons Uri and Glarus. Photo: Friedrich Böhringer / CC BY-SA 2.5
The 1,948 metre-high Klausen pass is 46km long and links the valley of Schächental in the canton of Uri with the rear of Linthal in the canton of Glarus. As a non-transalpine route, the Klausen pass was of no significance during either Roman times or the Middle Ages.
However, no later than the High Middle Ages, a simple cattle track existed which was mostly used for moving cattle to the Alpine pastures on the Urnerboden. A customs post in Bürglen monitored the insignificant local trade. Following Alpine disputes concerning the border between Uri and Glarus on the Urnerboden (it runs through the side of the mountain pass away from Uri), an agreement was reached in the 12th century. Commercial interest in a road over the Klausen pass grew with the opening of the Gotthard railway line in 1882 because the new north-south route was reliant on link-roads. After the project received the army's support, it was quickly built between 1893 and 1899.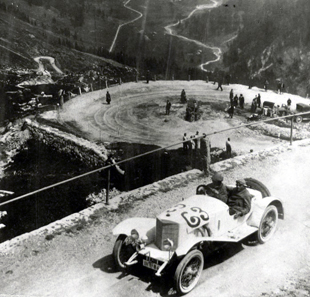 The Klausen pass was also the location of the historic Klausenrace. In this photo we see Walter Kaufmann with Steiger 'Sport' 11/55 PS (2nd) with his co-driver Hans Mensch at the II. International Klausenrace in 1923.
The big day came on 15 June 1900: the first stagecoach drove over the mountain pass and opened up the magnificent land-scape between Linthal and Altdorf to tourism. The Klausen pass gained fame from the legendary Klausenrace, a historic mountain race for cars and motorcycles.
For more information on the coin go to the Swissmint website.

You can find more information on the Klausenrace here.
If you wish to visit the Klausen pass for yourself check this site.
And watch this video and go for a ride along the Klausen pass on a motorbike.