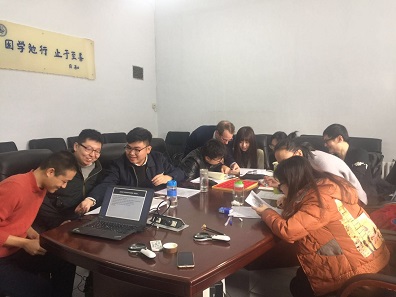 [bsa_pro_ad_space id=4]
by Sven Günther, IHAC, NENU, Changchun
August 10, 2017 – Ancient coins were the mass media of its time. They combined various functions like medium of exchange, storage, measure-unit, standard but also visual potentialities – in form of information, assertion, representation, or even propaganda.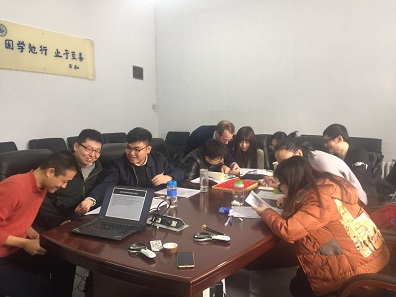 The members of the project were trained very hard for creating the exhibition.
Hence, they are most suitable to be integrated in a modern multifunctional tool that is most popular in China: Wechat – a combination of Whatsapp, Facebook, and Paypal.
The idea of interactive communication of antiquities with a modern audience was the starting point of a project seminar on ancient numismatics, where 9 students worked one semester very hard – not only to create a multimedia and interactive exhibition in English as well as Chinese of a part of the original coin collection in the Institute for the History of Ancient Civilizations (IHAC) of Northeast Normal University (NENU), Changchun, China, but also to learn and study the ancient background and use of money and coins.
The entries show images of the coins and description texts in English and Chinese.
As the project leader, Prof. Dr. Sven Günther together with his wife, the Classical archaeologist Elisabeth Günther, M.A. (FU Berlin), gave first some input in respect of the historical background of ancient coinage and the visualization of modern exhibitions.
Texts on the historical background complemented the single object entries in Wechat.
Then, the students spent every Saturday, organized in workgroups, to approach the original material relics.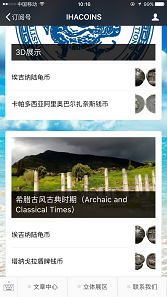 Maybe the exhibition will open up a window to European antiquity for the Chinese people.
Persistence, self-control in time- and work-arrangement and, last but not least, happiness to discover the "next foreign world", i.e. antiquity, were and are the virtues with which they have finished the project, and can offer our ancient heritage to a modern audience, in text, 2D and even 3D!
Some of the project members discussing vividly.
List of Project Members:
Sven Günther
Elisabeth Günther
Liu Shumeng
Zhang Hongxia
Wu Tong
Wang Zhengyu
Zhang Tianyuan
Zhang Duoduo
Ma Jiancheng
Li Yang
Zhang Ze
The international Wechat-application can be downloaded here.
The QR-code linking to the IHACOINS Wechat account.
The official Wechat-account IHACOINS can be accessed by scanning this QR-code.
And this is the English IHAC website.