[bsa_pro_ad_space id=4]
By Leonie Schulze
February 14, 2019 – In the summer of 2018, thieves stole the crown and orb of King Charles IX of Sweden and the crown of Queen Christina of Holstein-Gottorp from Strängnäs Cathedral. In September, one suspect was arrested and his trial was quickly set in motion. Now, it has been paused and adjourned – because the stolen items have been found.
The valuable crowns of King Charles IX and his wife had been exhibited at Strängnäs Cathedral. Photo: KW.
The safety display cabinet the crowns were stolen out of. Photo: KW.
Suddenly, reports on the latest developments started flooding in. Last week, the first tentative statements were spread claiming that the valuable pieces had been found. A press release published by the Swedish Prosecution Authority followed last Sunday, February 10, 2019, reporting that two further suspects had been arrested. In the meantime, officials have confirmed that both the crowns and the imperial orb were, in fact, recovered in a trash can in Akersberga, a suburb north of Stockholm.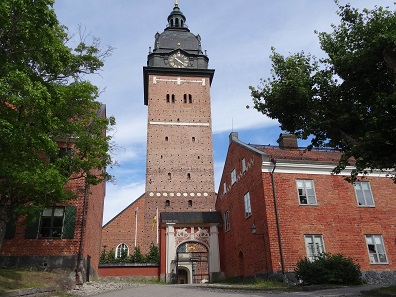 The crime scene: Strägnäs Cathedral. Photo: KW.
Someone had previously graffitied the word "Bomb" onto the trash can and placed it on the roof of a parked car. This fact in itself would already be newsworthy. However, it is unknown whether police officers and bomb disposal experts hurried to the site in force or not. It appears as though the concern about an actual bomb threat was fairly minor. Daily news outlets continue to report exclusively about the content of the trash can. Officials estimate that the crowns and the imperial orb are worth 65 million SEK (approx. 6.2 million euros). We do not know any details about the condition of the jewels.
The grave of the owner and donor of the stolen crown: Charles IX. Photo: KW.
It is somewhat misleading that most reports refer to the items as the Swedish crown jewels. A clarification is therefore in order: Sweden's actual regalia – the very ones that will one day be used for the coronation of Crown Princess Victoria – are kept at Stockholm Palace. Not in the cathedral of the small town of Strängnäs. The Swedish Royal Family offers additional information about the regalia online.
Three suspects are now in custody. The interrupted hearing of the 22-year-old defendant will continue on February 15, 2019. Traces of his blood had been discovered at the crime scene. So far, very little new information has emerged in the first hearings. Prosecutors Reena Devgun and Isabelle Bjursten deem it likely that additional perpetrators were involved in the theft.
A detailed article with additional information about the stolen goods and the small town of Strängnäs is available on CoinsWeekly.
The Stockholm Coin Cabinet also fell victim to several thefts. CoinsWeekly has report about it.