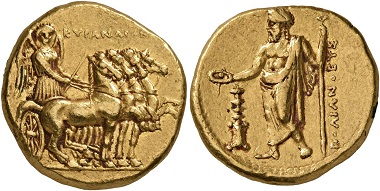 [bsa_pro_ad_space id=4]
by Alessandro Cattaneo and Michele Asolati
November 23, 2017 – One of the worst consequences for Cultural Heritage during Libya's civil war in 2011 was certainly the theft of the so-called "Treasure of Benghazi", a large collection of coins, statues and jewellery, stolen from the vault of the Commercial Bank of the Libyan city in May 2011.
It consisted of a group of antiquities excavated in Cyrenaica after the First World War and in particular: objects from the "Treasure of the Artemision of Cyrene", found in 1917, including a number of gold items, which date to the fifth and sixth centuries BC; materials excavated from the Palace of Columns in Ptolemais between 1937 and 1942; the numismatic Collection of Angelo Meliu, about 4000 coins.
Even if some early reports indicated that part of the coins turned up in Egypt, we are unfortunately sure that others have appeared not only on the black market in Libya, but also in some important international auction.
Cyrene. Stater, magistrate: Polianthes, 322-313 BC (AV, 19 mm, 8.65 g, 11 h). Naville 1951, n. 99.
The last example emerged in October 2017 in the Auction 1 of the new Leu Numismatik: among a group of ten coins, which are part of a "Kyrenaica Collection", there was a gold stater (Lot 113) that was certainly one of the stolen coins of the Treasure of Benghazi.
Cover of the monograph of G. Pesce (left); plate with the gold coins found during the excavation (right).
Particular of the plate with the Cyrenaican stater.
That coin was found during excavations at the Palace of Columns in Ptolemais and was published by G. Pesce in his monograph "Il Palazzo delle Colonne in Tolemaide di Cirenaica" in 1950. That image was then republished also in an article of S. Ensoli in 2012 ("Il 'Tesoro archeologico della Libia', oggi denominato 'Tesoro di Bengasi', e l'attività svolta nel 2011-2012 dalla MAIC per il suo recupero in collaborazione con il DoA di Tripoli, Bengasi e Cirene, con il Comando Carabinieri Tutela del Patrimonio Culturale (Roma) e Interpol") and in another one of M. Luni in 2014 ("I 'tesori' di Barce e Bengasi").
Coins from the "Benghazi Treasure". On the left, their photos from some publications on excavations made in Cyrenaica; on the right, the same pieces appeared in various auctions catalogue: a) Meliu 1935, tav. I, n. 7 / Roma Numismatics Ltd, E-Sale 21 (31 October 2015), lot 510. b) Meliu 1938, p. 49 / CNG, Electronic Auction 308 (7 August 2013), lot 208. c) Pesce 1950, fig. 122 / Hess-Divo AG, Auction 327 (22 October 2014), lot 121. d) Pesce 1950, fig. 122 / Hess-Divo AG, Auction 326 (28 May 2014), lot 103.
Moreover it is recorded also in the Carabinieri's "Illegaly stolen cultural property Database" with the number 103584[297].
This is just one last example, but a brief research in auctions of the past five years allowed to recognize at least four other pieces that appeared on the market.
It's important to note that Libya's cultural heritage is on an ICOM's red list, that illustrates the categories or types of cultural items that are most likely to be looted, stolen and illicitly traded. The International Council of Museum encourages museums, auction houses, art dealers and collectors not to acquire or sell such objects without having carefully and thoroughly researched all the relevant documentation concerning their provenance.
Luckily this time we were able to point out the fact before the sale, and great praise goes to Leu Numismatik that, after being informed, rightly decided to withdraw the coin from the auction.
Hence, it is hoped that this piece will be handed over to the authorities and can find a temporary storage facility until the situation in Libya has improved to allow the return of the material to its original country.
For information about the Benghazi Treasure and its theft, you can read this article in CoinsWeekly.
Additional information were provided by Trafficking Culture and CNN.