[bsa_pro_ad_space id=4]
Steve Album to Offer High-Grade Coins of British India
Stephen Album Rare Coins will hold its Auction 45 on January 26-29, 2023 at its new offices in Santa Rosa, California. The Auction is made up of 3,355 lots of Ancient, Islamic, Chinese, Indian, and World Coins. The combined low/high estimate is $1.5 to $2.0 million USD, with the final total expected to far exceed the high estimate amount.
Featured in the sale is the Joe Sedillot Collection of World Coins (Part IV) which includes a wide array of type coins from numerous countries. A significant number of the coins in the collection are in choice condition and were selected for encapsulation in PCGS holders. Parts I through III were offered in the firm's auctions in 2022. Many pieces went for multiple times estimate and some items set new price records. Part IV largely consists of European coins from countries starting with A through P. Additional parts of the collection will be offered in subsequent auctions in 2023.
Two Chinese coin collections, one assembled by K.K. Lee and one by Dr. Dirk Löer, are sure to receive much attention. Both collections include rarities of pre-machine-struck Chinese coins. The Dr. Dirk Löer Collection is expansive and additional parts will be offered throughout 2023 and likely 2024 as well.
Rounding out the sale is a fantastic collection of Northeast Indian coins from the David Cashin Collection. With the offerings from that collection, as well as an array of rare and high-grade coins of British India, the Indian section in this auction is one of the finest the firm has offered in many years.
Some highlights from the sale follow:
Lot 194: Umayyad. al-Walid I (705-715). AR dirham (2.35g), 'Uman (Oman), AH90, A-128, Klat-500, Umayyad dirhams dated AH81 and 90 are the earliest Islamic coins struck in Oman, attractive VF, RRR – For the year AH90, there are now 4 confirmed examples: (1) Oman Currency Museum, published by Robert Darley-Doran, History of Currency in the Sultanate of Oman, in 1990 (page 129, with enlarged illustration on page 14), which is same piece published by John Walker as "Ties.16", originally published by Otto Blau & J.C. Stickel in Zur muhammedischen Numismatik… in 1857 (also illustrated by Shams-Eshragh as his #722) (2) in the collection of Michel Klat, which he published and illustrated as #500 with the code OHF in Catalogue of Post-Reform Dirhams… in 2002, page 190 (3) an example sold by Morton & Eden in their Auction 48, Lot 35 (April 2011), also illustrated as Zeno-97537; and (4) this piece offered in Stephen Album Rare Coins Auction 45. Estimated value $250,000 to $300,000.
Lot 1032: British India. George V (1910-1936). 4-coin proof restrike set, 1911(c), Bombay Mint proof restrikes, a lovely set of this rare one-year type including AR 2 annas NGC graded PF-62, AR ¼ rupee NGC graded PF-63, AR ½ rupee PCGS graded PF-63, and AR rupee NGC graded PF-63, set of 4 coins. Estimated value $27,000 to $30,000.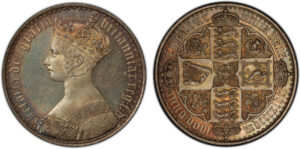 Lot 1496: Great Britain. Victoria (1837-1901). AR crown, 1847, KM-744, S-3883, Esc-2571, "Gothic" type, "UNDECIMO" on edge variety, a wonderful proof quality example with light attractive toning! PCGS graded Proof 64, ex Joe Sedillot Collection. Estimated value $15,000 to $20,000.
Lot 940: Jubbal. Raja Rana Sir Bhagat Chand Bahadur (1910-1947). AV mohur, VS1988 (1931), Bruce-X2, F-1238, State coat-of-arms with lion supporters within linear circle; in outer margin, jubal rajya (Jubbal State) in Nagari above, date below; floral symbols flanking date // sri (Lord) within linear hexagram; all within linear circular border; sri sri sri ramacandri jayati (venerable Lord Sri Ramachandra is victorious) in Nagari, an attractive mint state example of this very rare type! PCGS graded MS61, RR. Estimated value $10,000 to $15,000.
Lot 1198: Kirin: Kuang Hsu (1875-1908). AR dollar, CD1901, Y-183a.1, L&M-536; K-425; WS-0430, variety with regular "S" in CANDARINS, touches of luster, a scarce variety, PCGS graded AU53, S. – Tied with two other examples for second finest at PCGS. Estimated value $10,000 to $12,000.
Lot 1396: Austria. Franz Joseph I (1848-1916). AR gedenkthaler, 1877, KM-M9, Y-A20. Dav-30, Opening of the High Alpine Cottage in the Rax Range by Archduke Karl Ludwig, mintage of only 100 pieces! PCGS graded Specimen 64 DCAM, RR, ex Joe Sedillot Collection. Estimated value $8,000 to $10,000.
Lot 1203: Szechuan. Kuang Hsu (1875-1908). AE 10 cash, ND (1903-05), CL-SC.76, pattern type with finer engraved dragon and horizontal flame above pearl, superb strike with wire rim either side, PCGS graded Specimen-55, RRR. – An extremely rare pattern with only one other example in Specimen quality that we can find in a public auction. Estimated value $4,000 to $6,000.
Lot 1663: Peru. Felipe V (1700-1746). AV 8 escudos cob (26.95g), 1711, KM-38.2, Calico-2119, assayer M, from the 1715 Plate Fleet wrecks, with custom folder, PCGS graded AU58. Estimated value $4,000 to $5,000.
SARC COO Mike Barry commented: "We saw a significant increase in our sales figures in 2022 with each sale continuing to break records both in terms of prices and bidding activity. We expect the trend to continue as we head in to 2023. We have many interesting collections in the pipeline that should continue to attract our devoted bidders."
View all lots in the auction catalog.
More information can be found on the Steve Album website.