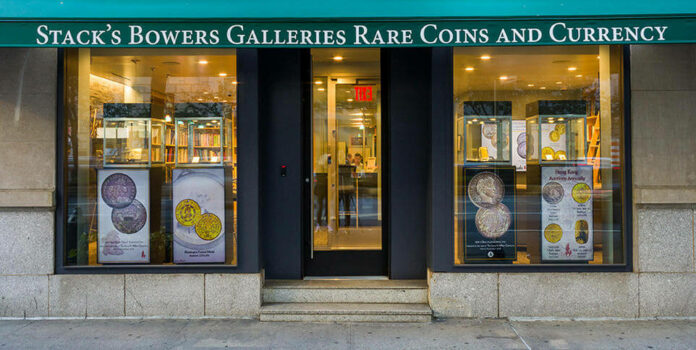 [bsa_pro_ad_space id=4]
There are some addresses that have a special ring to them for numismatists. New York, 123 West, 57th Street was one of them. For almost 70 years, it housed what insiders called "The Numismatic Club House". It's where Stack's coin shop had been located since 1953. An entire dynasty of coin dealers received famous collectors and scholars from all over the world in the hallowed halls of the American coin trade.
In New York Since 1933: Stack's
In 1933, Joseph and Morton Stack opened their New York office near the Flat Iron Building. In this way, they followed a family tradition: their ancestors had founded a coin shop as early as in 1858.
Moving to New York in the 1930s was both a risk and an opportunity. Since October 1929, the Great Depression had dominated the world economy. One in four Americans was unemployed at the time. However, Franklin D. Roosevelt took office on 4 March 1933 and banned all US citizens from owning gold with his Executive Order 6102 of the same year. The only exceptions were jewellery and collectors' coins. It should not come as a surprise that Roosevelt cared about coin collectors! After all, he was one of them. And he was considered a good customer at Stack's, just like his successor in office Harry S. Truman and the actor Gary Cooper, to name just a few. Those who wanted to invest in gold had no choice but to collect rare coins since 1933. By the way, the 1934 Gold Reserve Act, which legalised Executive Order 6102, was not repealed until 1975!
Therefore, these were good years for American coin dealers. And due to great expertise and business acumen, the Stack family was at the forefront of the trend. Stack's soon became the leading address for coins in the United States. The first auction sale took place in 1935; in 1936 Stack's became an official sales outlet for US commemorative coins; and since 1939 Stack's has held its auction sales within the framework of the American Numismatic Association's World's Fair of Money.
In other words: customer traffic increased and the auction house could afford more and more. In 1939, Stack's moved to genteel Upper Manhattan, and in 1953 Joseph and Morton Stack opened their famous Club House at 123 West, 57th Street. For almost 70 years, they and their sons received coin dealers from across the globe in this shop. The long tradition came to a sad end when the building was approved for demolition. That is why Stack's moved in 2020. They found a prime location near Central Station on elegant Park Avenue. This is where the new store is located, just a 10 minutes' walk from the New York International Numismatic Convention. I was very pleased that Vic Yegparian made it possible for me to visit the store.
The Company Today
It might be best to begin with a few words about what the company is today. It is already clear from the new name Stack's Bowers Galleries that the long-established auction house is in a very different position now than it was in the 1950s. The listed Spectrum Group International formed a new, strong company from Stack's, Bowers and Merena, Ponterio & Associates, Teletrade, Spectrum Numismatics and other market participants, which has been operating under the name Stack's Bowers Galleries since 2013. At the time, Brian Kendrella took on the exciting task of leading this international auction house with all its experienced numismatists and coin dealers into the future, and he did so with great success.
Today, Stack's Bowers Galleries has a total of ten branches. Among them are three stores in New York, Philadelphia and Boston. The company headquarters is located in Costa Mesa, California. Most auction catalogues are created there. The company's global aspirations are emphasised by their offices in Europe (Paris) and Asia (Hong Kong). After all, Stack's Bowers Galleries attaches great importance to being perceived not only as a US company but as one of the major actors on the global numismatic market.
This is also shown by the figures of the most recent record years. In 2021, Stack's Bowers Galleries experienced the best year in the company's history and generated $212 million in revenue from auction sales with about 75,000 lots. Among other things, they sold the fourth most expensive coin in all of numismatics that year: an 1822 gold Half Eagle at $8,400,000. Just a few months later this was followed by another record – an 1804 Draped Bust Silver Dollar fetched $7,680,000. 2022's results were even better than that of the previous record year. More than 90,000 lots were sold at auction and generated more than $250 million.
A Visit to 470 Park Avenue
Vicken Yegparian, Vice President of Numismatics, received me at the new flagship store at 9 a.m. on Friday, 13 January. It was a pleasant walk to the new location, which is right by the InterContinental New York Barklay hotel, where the New York International is held. The prime location in close proximity to Central Station is perfect for a club house of numismatics, although getting into the new store is obviously not as easy as it used to be with the old store. After all, it has to meet the latest security requirements – New York has not gotten any safer since the pandemic either. Therefore, you have to explain your request via intercom before the locked double doors open.
Once you passed them, you will see two areas for collectors: the counter, where smaller transactions are handled, and the comfortable waiting area for all those who have to wait for a specialist for more extensive business. After all, Stack's Bowers Galleries also accepts large consignments on site and does not only buy individual coins but collection, too. Vicken Yegparian explains that, in addition to the auction business, constant buying and selling obviously plays an important role for the New York store. Boxes full of coins often pile up there, but never for long. That is because every inch of space is expensive in downtown New York. Therefore, auction coins are processed at the headquarters in California. That is where Stack's Bowers Galleries' extensive library is kept. The New York office, on the other hand, makes do with a small reference library.
Lack of space is the central issue in New York. Therefore, there are only a few individual offices for employees. Most of them sit in small cubes, identifying the pieces that are sold on site to local customers. Anyone looking for a Morgan Dollar or a Double Eagle will always find a rich selection here.
In this way, Stack's Bowers Galleries manages to do something that most large auction houses struggle with – to find a balance between the personal contact that collectors want and the internationality required by today's auction trade. That is why Stack's Bowers Galleries attends many national and international coin shows and holds major auctions connected with coin shows, which are complemented by numerous online sales.
In 2023, it will be 90 years that there has been a retail store in New York with the name Stack's on it. Stack's Bowers Galleries has been a place to go for New York collectors for 90 years. That is really something to be proud of!
Here you can access the homepage of Stack's Bowers Galleries.
Of course, CoinsWeekly covered the renovation of the retail space at 123 West, 57th Street.
And the opening of the new location on Park Avenue.
Harvey G. Stack had a lot of fun editing his own article in our Who's Who.
On 3 January 2022, Harvey G. Stack – a numismatic legend – passed away. We dedicated an obituary to him.
Thanks to Harvey – an avid reader of CoinsWeekly – we have an impressive account of how he experienced 9/11.
The article is part of a comprehensive numismatic biography, whose 314 parts can be found on the website of Stack's Bowers Galleries.