[bsa_pro_ad_space id=4]
August 23, 2012 – One of the world's leading auction houses and legendary New York City institution Stack's Bowers Galleries is marking its 60th anniversary with a grand re-opening of its historic Upper West Side location with an official ribbon cutting ceremony on Thursday, August 23, 2012. Legendary numismatic industry veterans Harvey and Larry Stack are scheduled to be in appearance for the presentation, which will take place from 9:00am to 11:00am at the 123 West 57th Street location.
The 57th Street storefront location is Stack's Bowers' only retail outlet in the country. The iconic coin shop originally opened in 1933 in midtown New York at 690 Sixth Avenue. As the economic environment changed throughout the 1930s-1940s, the retail location moved several times before landing at its present day location in 1953, where it is has remained for 59 years.
In the 1940s and 50s, the coin shop was referred to as the 'club house' amongst avid coin collectors, and it brought together a group of leading numismatics, which later formed the nucleus of the Metropolitan New York Numismatic Convention. In a move to restore this location to its original luster and return to the nostalgia of the early days, a remodel unveiling that 1940s New York City coin collector's historic feeling will be revealed at the grand re-opening. 'We are looking forward to sharing this newly renovated, historic space with not only New York City, but with the country and our visitors from around the world,' Chris Napolitano, president of Stack's Bowers Galleries commented. 'This remodel is a milestone for Stack's Bowers as a New York institution, as well as for the city – after nearly 60 years in a single location, and nearly 80 years in business, it is exciting to know that it is possible for a business to see continued success through both good and bad times. This remodel is a celebration!'
The 2012 remodel boasts completely redone ceilings, new carpet, invigorated street viewing displays, a redesigned entrance, refinished wood cabinets as well as the famous Stack's Bowers Galleries sit-down viewing counters. 'The highlight of the shop has always been the display cases and whatever wall hangings we have on display at the moment,' Harvey Stack commented. 'These displays are not only of interest to our devoted collectors, but even travelers find an interest in the museum-like experience of seeing a small bit of history hanging on our walls.' Stack's Bowers Galleries is surrounded by a handful of New York City landmarks including Carnegie Hall, The Directors Guild of America, and the famous Russian Tea Room, all tourist attractions, much like the Gallery is today.
The 1oz silver Bison Bronx Zoo medal.
For the same day when the re-opening ceremony will take place Stack's Bowers Galleries has officially announced the launch their first limited-edition North American Bison medal to benefit the North American Bison in conjunction with the Wildlife Conservation Society (WCS). The company's introduction of this historically significant medal directly supports the WCS' renewed Bison Restoration Project currently underway at the world famous Bronx Zoo.
The nearly-extinct North American Bison has long roamed the nation's prairie lands in the West. Their disappearance in large numbers from the prairies leaves an ecological void including natural regulation of wildfires. 'The Wildlife Conservation Society saves iconic, vulnerable species comprising 25% of the world's biodiversity,' says John Calvelli Executive VP or Public Affairs for the Wildlife Conservation Society. 'Small mammals, birds and insects depend on the bison's natural behavior to preserve their habitat. It's crucial that we take an active role in their preservation, and we are grateful for the support of companies like Stack's Bowers that are helping us in this endeavor.' Other than the bald eagle, no other species is more representative of America.
The 1/2oz silver Bison Bronx Zoo medal.
The medal will be produced in one full ounce silver and one half ounce silver versions. The front of the medals depicts an impressive image of the bison grazing in its natural habitat at Yellowstone National Park, while the reverse side features two separate iconic images of New York's world-famous Bronx Zoo. The full ounce version, which measures 1.50 inches with a smooth edge, features a scenic view of the Zoo's central 'Rockefeller' fountain. The half ounce coin measures 1.269 inches with a smooth edge and depicts the Zoo's regal 'Rainey Gate' entrance on the East Fordham Road side of the property.
'We are so proud of this initiative that not only pays homage to one of the most iconic symbols of the American landscape, but also takes an active role in its preservation. It is a great way for long time coin collectors to add an iconic symbol to their collection, and for new families to begin a tradition to pass down from generation to generation,' said Greg Roberts, Chief Executive Officer of Spectrum Group International, parent company of Stack's Bowers Galleries.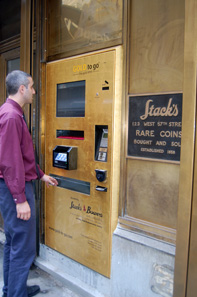 New York's first-ever express GOLD to go(TM) ATM machine.
Furthermore in conjunction with its re-opening Stack's Bowers Galleries is unveiling New York's first-ever express GOLD to go™ ATM machine at its upper west side location (123 West 57th Street). This automated machine is the fourth GOLD to go™ ATM machine to be installed in the United States, and its easily accessible, outdoor location will allow for quick and direct transactions throughout the day.
Stack's Bowers Galleries' GOLD to go™ ATM will offer a variety of gold and silver bar and coin products with various weights ranging from 5 grams to 1 troy ounce. This innovative machine updates its prices every 60 seconds based on current precious metals spot prices and each product it dispenses is quality certified and produced by recognized manufacturers and world mints. In addition, each item is dispensed in a premium and elegant gift box. The machine itself makes a stunning visual statement, covered in 24-karat gold leaf. There are more than 30 GOLD to go™ ATM machines currently in operation, including 21 in Germany, as well as United Arab Emirates, Italy, Portugal, United Kingdom, and three other United States locations. Stack's Bowers Galleries in conjunction with the Golden Nugget Casino in Atlantic City, N.J. launched the company's first GOLD to go™ ATM in April of this year. The New York location marks the company's second ATM installation.
'We are thrilled to continue the expansion of the GOLD to go™ ATM machines to the gold and silver-buying public,' says Brian Kendrella, director of operations for Stack's Bowers Galleries. 'The Stack's Bowers Galleries GOLD to go™ ATM is convenient and extremely user-friendly, and fulfills a multitude of buyer needs on different levels – from serious gold collectors to tourists seeking an exclusive high-end keepsake from their New York City visit. In addition to being a retailer, Stack's Bowers also purchases gold at competitive prices, providing full service options and hassle-free transactions.'
Beginning August 23, 2012, the New York City GOLD to go™ ATM will dispense the limited-edition North American Bison collectible medal that Stack Bower's Galleries is launching to benefit renewed efforts to save the iconic North American Bison from extinction. A percentage of the retail proceeds will go to the Wildlife Conservation Society and their efforts to protect the North American Bison. The silver piece will be sold in .5oz or 1oz weights until this commemorative edition is sold out.
For more information on Stack's Bowers Galleries, please click here.
To learn more about the GOLD to go™ ATM you can read this article …
… or visit the producer's website.