[bsa_pro_ad_space id=4]
Stack's Bowers Galleries Announce Record Price for Contemporary Coin
Stack's Bowers Galleries has announced the results of their August 2019 auctions in conjunction with the World's Fair of Money in Rosemont, Illinois.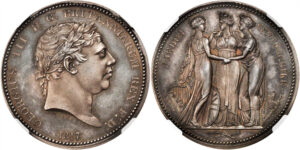 Ancient and World Coins and World Paper Money
In their Ancient and World Coin and World Paper Money auctions Stack's Bowers offered over 4,600 lots comprising interesting and attractive ancient, medieval, early modern, and modern coinage, as well as important paper currency. Collections such as the Solomon Collection of Judaean coinage and the Passig River Collection of Filipino issues generated much enthusiasm with the result that a total of over $5.48 million was realized across the multiple sessions. When combined with the firm's Official ANA offerings of United States coins and paper money, over $30.6 million in numismatic items found new homes. (All prices include the standard buyer's premium.)
Leading the ancients were some rather exceptional ½ shekels from the First Jewish War, with such as years 1, 2, and 3, respectively realizing $14,400, $19,200, and $15,600. Also of note from the ancient world was a rare consular solidus of Leo I, pedigreed to 1988 and bringing $12,000.
Towering above all other rarities in the world coinage sections was the astounding "Three Graces" Pattern Crown of George III (NGC PROOF-64), which realized $204,000. Meanwhile, an incredibly rare Coronation Medal of Russia's Nicholas I in Platinum (PCGS SPECIMEN-61 Gold Shield), sold for $93,000.
The aforementioned Filipino issues featured a cornucopia of exciting prices, starting with the incredibly rare Revolutionary Centavo from Panay (NGC AU-55 Brown), that realized $43,200. A trio of very rare Pesos (1906-S, 1907-S, and 1909-S), respectively brought $19,200, $15,600, and $26,400. Additionally, the finest graded muling of a 5 Centavos with a 20 Centavos reverse (PCGS MS-65) sold for $31,200.
Highlights of the world sessions were rounded out by a comical yet very rare Looney Tunes Gold Kilo/$2500 (NGC PROOF-69 Ultra Cameo) that was bid to $50,400, while a seldom-seen Ducat from the 30 Years' War (PCGS AU-53) realized $26,400. An interesting and exceptionally rare Russian Silver Medal of Prince Grigory Potemkin and the Annexation of Crimea (PCGS SPECIMEN-62 Gold Shield) was sold for $13,200.
The World Paper portion of the Stack's Bowers Galleries ANA sale also saw impressive results. An Upper Canada 1 Dollar Note from 1831 brought $8,400. Other strong results for the country of Canada were the Upper Canada 4 Dollar that sold for $4,800, and a Royal Bank of Canada 50 Dollar note that realized $7,200.
An incredible section of notes from India crossed the block. Included in this section was a set of Persian Gulf Notes that brought $26,400. This lot paired well with the 100 Rupees that sold for $60,000. An uncirculated 2 Rupees 9 Annas was also notable, selling for $24,000.
The standout section of the sale featured notes from the Philippines with an Unlisted 1904 5 Pesos selling for $26,400, and an impressive 1906 500 Pesos realizing $40,800. Also notable was the 10 Pesos from 1912 that brought $21,600.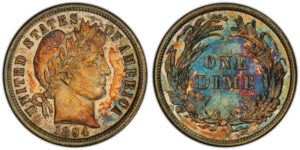 United States coins
The auction dedicated to US coins realized over $19.8 million. Headlined by the E. Horatio Morgan, Anthony J. Taraszka, Maurice Snow and ESM collections, the Stack's Bowers Galleries sale included impressive material from every corner of the Red Book and beyond. By the close of the final session, more than 3,800 lots of US coins and exonumia had been placed into new collections and several records had been broken.
Session 1 drew significant attention with an offering of rarities from the Numismatic Americana, Colonial, and Early American Copper series. An incredible selection of Indian Peace medals included a silver 1857 Buchanan medal that realized $15,600 in lot 57 and an 1881 Garfield medal in silver that brought $31,200 in lot 66. Session 1 also featured an exceptional offering of Hard Times tokens and Encased Postage Stamps from the collection of firm co-founder Q. David Bowers. An incredibly rare 1843 A. Loomis token earned $21,600 in lot 410, while the Ford specimen of the 1862 B.F. Miles One Cent Encased Postage stamp brought $24,000 in lot 456.
Session 5 presented a number of interesting United States patterns and Mint errors, which attracted considerable excitement. The 1870 Judd-1011 pattern dollar in lot 3399 sold for $21,600, followed by the 1875 Judd-1405 Liberty by the Seashore pattern that earned $14,400 in lot 3421. Both of these coins were offered as part of the E. Horatio Morgan Collection, which featured 110 different patterns throughout the sale!
A pair of rare and dramatic mint errors from the Standing Liberty quarter series were offered near the end of the Session 5, pedigreed to the collection of late Standing Liberty quarter specialist J.H. Cline. One of these was a rare split planchet error on a 1919 quarter presented in lot 3441. Housed in two separate PCGS holders, this error brought $19,800.
The most impressive treasures were offered in the Stack's Bowers Rarities Night session, held on Thursday, August 15th. The evening began with the incredible Anthony J. Taraszka Collection of $10 Gold Eagles, which was sold to a standing-room-only audience. The collection featured 41 coins comprising every known variety from 1795 through 1804, and was one of just two complete collections ever assembled.
Each coin in the Taraszka Collection was certified by PCGS, and all but one piece achieved grades of About Uncirculated or Mint State. Included among the Choice Mint State pieces was the fabled 1795 9 Leaves $10 found in lot 4004. Graded MS-63 by PCGS, it realized $630,000 after intense bidding. Additional highlights included a MS-62 (PCGS) example of the 1795 13 Leaves type that sold for $144,000 in lot 4005, and a 1798/7 Stars 7×6 eagle graded AU-58 (PCGS) that brought $384,000 in lot 4015. When the auctioneer's hammer fell on the final lot, the Taraszka collection had realized over $3.2 million.
Following this historic offering was the sale of the ESM Collection of Proof Flying Eagle and Indian Head Cents, the latest of Stack's Bowers' ongoing offerings of coins from this collection. Highlights in this sale included the PR-65 RD CAM (PCGS) Norweb specimen of the 1864 L on Ribbon issue which brought $84,000 in lot 5012, and the top-pop PR-67 RD (PCGS) 1877 cent in lot 5025 that earned $50,400.
Numismatic history was made by the firm later that night, when an example of the legendary 1894-S Barber dime sold for over $1.3 million in lot 5178. Certified Branch Mint Proof-63 by PCGS and verified by CAC, this coin is one of just nine confirmed survivors from an original mintage of 24 pieces. This offering of an 1894-S Barber dime in the Stack's Bowers Galleries ANA sale represents the first time an example has appeared at auction in over three years, and the first offering by the firm in nearly 12 years.
The 1894-S dime was also part of the Horatio E. Morgan Collection, accompanying the expansive selection of pattern coinage and other key-date issues. Another significant rarity from this collection was a MS-65 (PCGS) 1876-CC twenty-cent piece that earned $456,000 in lot 5182. Further selections from the E. Horatio Morgan Collection will be featured in the firm's November 2019 Official Auction of the Whitman Coin & Collectibles Baltimore Expo and other future sales.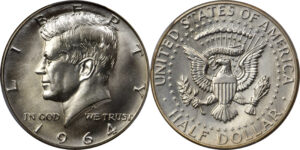 Another historic milestone was achieved in lot 5231, where a rare Specimen-68 (PCGS) 1964 Kennedy half was sold for the record price of $156,000. At this level, it now ranks as the most valuable non-error modern U.S. coin ever sold at auction, surpassing the previous record of $126,500 set by a 1969-S Doubled Die Obverse cent in 2008.
Gold coinage attracted considerable excitement throughout the Rarities Night session, continuing the momentum built by the Taraszka Collection earlier in the night. A PF-64 DCAM (PCGS) CAC 1863 Liberty Head quarter eagle from the Maurice Snow Collection sold to great fanfare in lot 5285, earning $114,000 in its first public offering in decades. This piece was followed by an impressive selection of three-dollar gold pieces, including a PR-65 UCAM (NGC) 1873 Open 3 example that brought $138,000 in lot 5302, and a PF-67 UCAM (NGC) example of the 1876 issue in lot 5305 that sold for $156,000.
Astounding Saint-Gaudens double eagles from the A & A Saints Collection marked the end of regular issue gold coinage in the sale. The MS-66+ (PCGS) CAC 1922-S double eagle in lot 5386 brought $192,000, while the 1930-S in the same grade earned $372,000 in lot 5389, setting auction records for both issues.
Next came a run of significant patterns from the E. Horatio Morgan Collection, highlighted by a PF-65+ RB (PCGS) CAC 1877 Judd-1541 pattern half dollar in copper. With provenance to Dr. Edward Maris and the Garrett family, it earned $90,000 in lot 5455.
Private and Territorial gold coins from the Samuel J. Berngard Collection brought the evening to a close. An incredibly rare 1830 Templeton Reid $5, one of just six known, garnered $204,000 in lot 5462, while a MS-61 (NGC) example of the 1849 Pacific Company $1 in lot 5475 realized $264,000.
For more information on this and forthcoming auctions go to the Stack's Bowers Galleries website.