[bsa_pro_ad_space id=4]
Stacks Bowers' August Auction Realizes Almost 22 Million Dollars
August was a busy moth for Stacks Bowers Galleries. Their August 2020 Auction consisted of multiple sessions and realized a total of $21,739,851 across all categories. While the majority of this sum was realized for United States Coins – including great highlights like the ESM and Fairmont Collections – Ancient and World coins and World Paper money also featured countless rarities, like the Spanish gold coins from the Brent Pogue Collection.
Almost 14 Million Dollar in United States Coins and Numismatic Americana
Over $13.94 million in United States coins and Numismatic Americana was sold in the Stack's Bowers Galleries auction held August 5-7 at the Bellagio Hotel and Casino alongside the PCGS Members Only Show, with additional Internet Only sessions hosted on the Stack's Bowers Galleries website August 10-12. With the vast majority of bidders participating through the Stack's Bowers Galleries website or mobile apps, the success of this sale demonstrated the firm's ability to remotely connect bidders with desirable collectibles amid challenging and rapidly evolving circumstances. (All prices realized include the 20% buyer's premium).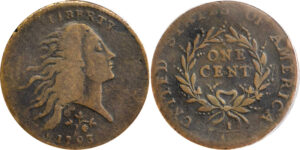 Session 2
United States coins first crossed the auction block in Session 2 on Thursday, August 6, with Rarities Night featuring the ESM and Fairmont Collections. The incredible ESM Collection of United States Large Cents, perhaps the most highly anticipated selection from this legendary cabinet, realized over $4.6 million. This offering was highlighted by the famous Parmelee 1793 NC-3 Strawberry Leaf cent, which realized $660,000 in lot 1006. Graded VG-10 (PCGS), it is the finest of just four known examples. Rare varieties continued to attract strong bids among the Flowing Hair and Liberty Cap types, with the Rarity-5 1794 S-48 Starred Reverse cent earning $156,000 in lot 1010 and the Rarity-8 1795 NC-1 Jefferson Head cent selling for $408,000 in lot 1017, a new auction record for the variety. The Condition Census #1 MS-65 BN (PCGS) CAC 1813 S-292 cent took the top spot for the Classic Head type at $96,000 in lot 1065, while the MS-67 BN (PCGS) 1830 N-6 cent showed a strong result among the late dates at $72,000 in lot 1093.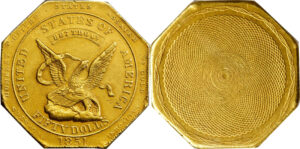 Collectors of U.S. gold were excited by a selection of Liberty and Indian half eagles from the Fairmont Collection, highlighted by MS-61 (PCGS) examples of the 1909-O (lot 1542) and the 1929 (lot 1559), which realized $19,200 and $22,800, respectively. A selection of Territorial and Shipwreck Gold featured many rarities including an MS-64 (PCGS) CAC 1851 Humbert $50 that earned $432,000 in lot 1320 and an MS-62 (PCGS) 1849 Oregon "Beaver" $5 that sold for $336,000 in lot 1326. Other standout treasures from Rarities Night included an MS-62 1797 Small Eagle $10 that brought $300,000 in lot 1272, and an MS-63 (PCGS) 1921 Saint-Gaudens $20 that earned $192,000 in lot 1304.
Session 3
Bidding continued the following day with Session 3 on Friday, August 7. The session opened with a significant offering of Numismatic Americana highlighted by the D. Brent Pogue Numismatic Library. Together with rare Spanish Colonial gold coins in Session C, these selections from the Pogue Collection realized over $592,000. Total prices realized for the D. Brent Pogue Collection now exceed $131,980,000, reaffirming its status as the most valuable numismatic collection ever sold. The highest priced lot among the literature was Louis E. Eliasberg's personal Green's Checklist offered in lot 2036. This incredible accounting, in Eliasberg's own hand, of the formation of this famous American collection brought $28,800. Lot 2027 featured one of five deluxe presentation copies of A.W. Browning's work on early quarters and realized $26,400.
The Sherwood Collection of Civil War Tokens was another remarkable Americana offering, showcasing Condition Census quality and several Rarity-9 examples like a copper Fuld-328/328a brockage that brought $1,680 in lot 2225.
The Numismatic Americana was followed by an impressive selection of U.S. coins that spanned colonial issues through modern commemoratives. Among these were Indian cents from the BSC Indians Set, highlighted by a MS-65 RD (PCGS) 1868 that sold for $10,200 in lot 2326. Specialists were also delighted by the Henry Collection of Liberty Seated half dimes, which offered such rarities as an 1867 graded MS-67 (PCGS) CAC in lot 2574 that earned $20,400. A remarkable selection of cast U.S. Mint silver ingots attracted record prices toward the end of the session, including a new auction record for a dated U.S. Mint silver ingot set by the 1959 San Francisco Mint ingot in lot 3184 that realized $28,800.
Sessions 4 and 5
Additional U.S. coins and Numismatic Americana were offered in Internet Only Sessions 4 and 5, hosted on the Stack's Bowers Galleries website StacksBowers.com on Monday, August 10 and Tuesday, August 11. Included in Session 4 were counterstamped coins from the Steve Tompkins Collection of Exonumia, Part I, offering a wide array of desirable stamps and rare host coins like the MS-66 BN (PCGS) General U.S. Grant medal struck on an 1850 Braided Hair large cent that brought $840 in lot 4314.
Ancient and World Coins and World Paper Auction Demonstrates Exceptional Strength
Following a dozen auction sessions spanning nearly two weeks, the results for the Stack's Bowers Galleries August 2020 auction illustrate the robust nature of the coin market and affirm that numismatics stands firm even during times of uncertainty. Over 92% of the ancient coin and world coin and paper money lots found new homes, realizing in excess of $5.3 million, contributing to overall prices realized of $21,739,851 for the sale across all categories. Numerous well-cultivated cabinets such as the Glacier Rams Solidi, the Duke of Lansing, the Habsburg, and the Jasmine collections led the way, with all performing very well and offering countless highlights. (All prices realized include the 20% buyers' fee.)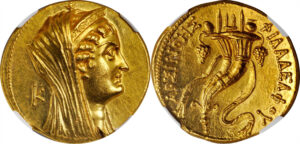 Highlights among ancient coins included a gold octodrachm of Arsinoe II Philadelphos, that garnered $38,400, a lustrous gold stater of Kroisos, that sold for $30,000, and an exceptional silver half shekel from year 3 of the First Jewish War that secured $22,800.
In the world coins sessions, the Duke of Lansing Collection, which focused on British Coronation medals, provided many highlights, chief among them superb issues in gold from the coronations of William & Mary, Charles II, and James II, which sold for $38,400, $37,200, and $36,000, respectively.
Spanish and Colonial highlights began with the impressive "Royal" Presentation 8 Escudos from Mexico of Philip V that brought $312,000; a similar 4 Escudos  that sold for $84,000, and a lovely Catalonia Double Principats from Spain issued under Charles V & Joanna that realized $90,000.
Featured among the World coinage in the sale were magnificent examples of the Spanish Colonial Royal presentation gold coinage from the D. Brent Pogue Collection. The exceedingly rare Royal presentation issues struck at mints in Bolivia, Peru, and Mexico were a distinct departure from the normal "cob" coinage that was standard during the first few centuries of Spanish Colonial rule in the New World. The Royal presentation issues were manufactured with obvious care, and it is clear that each planchet was hand-selected for excellent quality and struck using special dies that featured subtle differences. Overall, the high degree of craftsmanship employed in the manufacturing process for these issues was unparalleled in the New World.
The Las Vegas Auction featured two of these exceptional and intricately produced coins. Offered in lot 21445 was an MS-66 (PCGS) 1714 8 Escudos that was considered to be the finest known by respected numismatist and former owner Don Canaparo. Plated in The Standard Catalog of Mexican Coins by Krause Publications, it brought $312,000. It was accompanied by an MS-65 (PCGS) 1711 4 Escudos that was one of just three specimens to appear at auction over the past two decades. As the only example graded by PCGS, it earned $84,000 in lot 21446.
Further outstanding performers in the world category included a choice Bavarian 5 Ducats from 1640 that reached $52,800, an iconic Italian 5 Lire from the first year of reign for Vittorio Emanuele III that garnered $90,000 and a Filipino cast Barrilla from 1728 that surpassed its estimate range of $1,500-$2,500 by a factor of 10, recording a total price of $21,600!
In the session featuring world paper money, Latin American and British Commonwealth issues led the way, with numerous five-figure results attained. Chief among these were a rare Panamanian "Arias" Five Balboas that realized $33,600, an outstanding Pakistani 100 Rupees that achieved $28,800, a very rare "triple signature" Bahamian 50 Dollars that was bid to six times its estimate range at $26,400, and an exceedingly rare 5 Shillings note from Saint Lucia that sold for $20,400.
With this successful sale now complete, the firm has proven its ability to capitalize on the growing strength of the market witnessed through the first half of 2020. Stack's Bowers Galleries is now looking ahead to their exciting schedule of auctions through the end of the year and into 2021, including their October Hong Kong auction that will feature over 4,000 lots of predominantly Asian coins and paper money and promises to be another popular and successful event. Other highlights on the schedule include their monthly Collectors Choice Online sales, their November 2020 Baltimore sale of U.S. coins and currency, and their January 2021 NYINC sale of Ancient coins and World coins and paper money.
All lots of this auction can be browed through on the Stacks Bower's website.