[bsa_pro_ad_space id=4]
November 17, 2011 – Spectrum Group International, Inc. ("SGI") (SPGZ.pk), a Fortune 500 company, is the largest global trading and collectibles network in the world and is adding yet another international location with the launch of Spectrum Group France SAS in Paris. Just weeks ago, Spectrum Group announced the opening of subsidiary A-Mark Precious Metals' new office in Vienna, Austria.
The addition of the Paris office is part of a major expansion by SGI in Europe, which has included opening offices in Austria and the Netherlands to augment existing offices in Germany and Switzerland. As part of that expansion plan, the office in Paris, France, will initially be focused on numismatic buying and selling by appointment, with the plan to develop it into a full service collectibles operation within the next year to include the presence of additional SGI companies. The office has been operational since November 15, 2011.
The Paris office will also serve as a satellite office to support SGI's United States coin operations in coordination with auction house Stack's Bowers Galleries and its world division, Stack's Bowers and Ponterio, and will eventually service other collectibles such as fine wine for Spectrum Wine Auctions, headquartered in California, and stamps for Heinrich Kohler Auctions of Germany, Corinphila Auktionen of Switzerland, and Corinphila Veilingen of the Netherlands.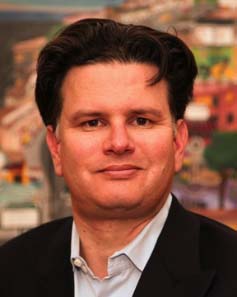 Kerry Pieropan, head of the new Paris office of Spectrum Group International.
Paris operations will be headed by Kerry Pieropan, a veteran numismatist with more than 20 years experience, most of which has been at Spectrum Group subsidiary, Spectrum Numismatics International. As the senior executive in charge of the Paris office, Pieropan will be tasked with leading the numismatic buying and selling efforts as well as overseeing development and business operations.
Ron Gillio will provide additional support to Sepctrum Group International's Paris operations.
Ron Gillio, numismatic acquisition coordinator for Stack's Bowers Galleries, will be providing additional support to SGI's Paris operations. Gillio is an internationally renowned rare coin dealer, auctioneer, author and researcher, who has been active and influential in worldwide numismatics for more than 45 years. He travels frequently to Europe and Asia to procure coins and attend numismatic shows and auctions. Gillio is a member of the International Association of Professional Numismatists as well as the Association of Swiss Professional Numismatists, one of only 12 members outside of Switzerland.
"Kerry Pieropan brings unique skills to our Paris office and is the ideal person to run our operations there," said Greg Roberts, president and CEO of Spectrum Group International. "He has a thorough understanding of our business, as well as exceptional experience with the European numismatic market. Ron Gillio has traveled extensively throughout Europe for decades, attending coin shows and auctions and making contact with dealers and collectors, which has provided him with a strong base on which to help build our new SGI presence in France and Europe. They will make a tremendous European team for Spectrum Group France."
"This is a tremendous honor to bring Spectrum Group International to France and continue our global expansion," added Pieropan. "I am greatly looking forward to this opportunity to expand our numismatic reach now, and to the opportunities for continuous growth in other collectibles markets in the near future."
Spectrum Group France SAS is located at (75008), 36-38 rue des Mathurins, Paris, France. For additional information on Spectrum Group International and its family of companies and their contact information, please click here.