[bsa_pro_ad_space id=4]
Our image of a knight in shining armor is a story of misunderstandings: we think of him as a mediaeval warrior both brave and manly but also immobile and clumsy, encased in heavy steel armor apparently designed solely for fighting – whether on the battlefield or in tournaments, a sport that seems savage and martial to a modern day spectator. The parfit gentle knight displayed his chivalrous side only in the company of ladies.
The origins of many of these stereotypical images and the roots of our romantic-glorifying ideas about knights and armor and the concept of masculinity associated with them are much younger than one might imagine: most are based on nineteenth- century depictions that continue to inform modern literature, films, TV productions, and popular culture – from Ivanhoe to King Arthur, from Monty Python and the Holy Grail to Lord of the Rings and Game of Thrones.
Can you find these men and their armor in the exhibition?
The exhibition Iron Men – Fashion in Steel at the Kunsthistorisches Museum addresses these misconceptions about armor. We take a fresh look, often from an unexpected vantage point, and explore what life was really like for these "iron men".
Iron Men – Fashion in Steel explores the prominent role that armor played in early-modern society, art, and culture. It illustrates its importance as a political and dynastic symbol, as a diplomatic gift, as a personal and historical souvenir, and, last but not least, as fashionable steel attire and a fantastic, symbolic disguise – across religious, ideological, and gender boundaries.
Fashion in Steel
Renaissance armor was primarily a form of protective clothing worn on the battlefield and during a tournament. But it was also fashion in steel: an expensive, imposing piece of clothing regarded as both fashionable and elegant that played a central role in the life of a nobleman from cradle to grave.
Celebrated armorers like Lorenz Helmschmid at Augsburg and Filippo Negroli at Milan were highly-paid specialists who created exceptional and unique artworks. Every armor reflected the aesthetic preferences of the period in which it was produced. Some armorers played with the fashionable side of armor, creating things like armored skirts and puffed sleeves that imitate the extravagant attire sported by the landsknechts, mercenary troops from southern Germany.
And the aesthetics of armor – its steeliness, its carapace-like concept – in turn, influenced textile attire. It informed not only the clothes worn my men but women's dress too, with the stiffness of the textile doublet worn by fashionable members of both sexes an imitation of armor breastplates.
Disguises & Crossdressing
The exhibition presents both the fashionable aspect of armor and their use as disguise: tournaments were often held during Carnival and many participants wore fantastic fancy-dress armor – symbolic costumes that allowed their wearers to assume a role while displaying their skills and bravery in front of a large audience. For these jousts, armorers produced visors shaped like the head of a man or an animal, or with grotesque mythological faces.
In the fifteenth and sixteenth century, the Renaissance revived interest in ancient Greece and Rome; this is reflected in contemporary all 'antica (i.e. classicizing) armors, which were very much en vogue in the sixteenth century. By donning such extravagant armor, its wearer was transformed into a classical hero.
Armorers also produced armor and weapons in styles that imitated Turkish models. Turkish and Turkish-style arms and armor were prestigious gifts. Noblemen wore alla Turca armor and arms at courtly festivities and ceremonies such as the pageants held to open a tournament, or mummeries and other dances in disguise.
Jousters often sported female accessories in the lists – as a symbol of love or a reference to a particular dynastic alliance. Noblemen also frequently donned various disguises, including dressing in women's clothes, to attend the costumed dances held in the evenings. Sources suggest that crossdressing was part of the chivalrous culture of the Renaissance. Our knight in shining armor was not only brave and strong, he was also fashionably attired and sometimes even slightly gender-fluid.
Women in Armor
Very much a male piece of clothing, armor was closely connected with the construction and display of masculinity. Wearing armor was regarded as a male domain and celebrated in early-modern chivalry. But literary and historical documents tell of women wearing armour and participating in battles, which countered contemporary expectations of female gender-specific behavior.
The exhibition catalogue includes a number of essays that explore these transgressions of traditional gender norms – both by men and by women – in early-modern elite society.
Armor is Not Mediaeval…
Armor, or to be exact, plate armor that completely encases the wearer's body, is not a mediaeval phenomenon but dates from the early modern era: the first fully functioning sets of armor were produced in northern Italy in the early fifteenth century, and they reached their apex during the following two centuries, the Renaissance.
Time and place where steel armor was worn are clearly demarcated. It was a European invention and was mainly worn in Europe. It was optimized for the specific conditions of warfare between the early fifteenth and the first half of the seventeenth century, for fighting with lances and swords and as a protection against infantry weapons such as pikes, arrows, and crossbows. Changes in these conditions, especially the growing prevalence of increasingly powerful firearms that began in the middle of the sixteenth century, played a major role in the demise of the harness as military protective clothing.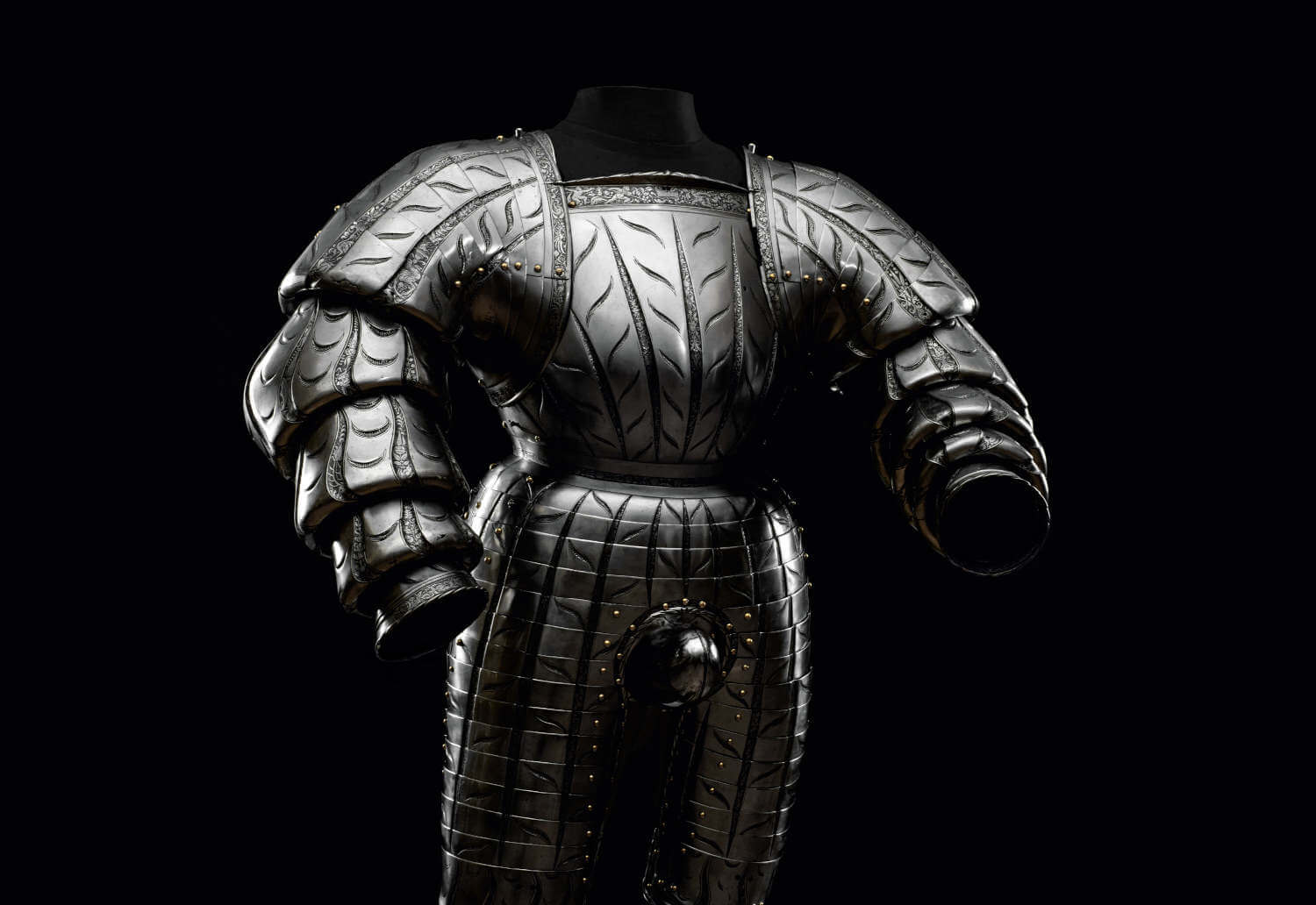 … And It is Lighter And Easier to Move in Than One Might Think
A field armor is not light, but it is lighter and more flexible than it appears. It weighed around 20 to 30 kg (c. 40 to 60 lbs.), which is less than the equipment carried by many modern firefighters. And the weight was distributed over the entire body, unlike, for example, a modern backpack, where the weight is borne by the shoulders alone.
Armor was a form of protective clothing designed to ensure the wearer could move with ease. Otherwise clunky, immobile armored men would have faced off on Europe's battlefields during the fifteenth and sixteenth century – and these would have been peaceful times indeed.
In order to ensure this flexibility, plate armor comprises numerous individual pieces, often as many as 200. This meant that walking, running, and jumping was not a problem. If necessary, an armored man can even do summersaults – as documented in a special video on show in the exhibition.
Thrills & Networking – Tournaments As a Sports Extravaganza
Today, we probably find chivalrous tournaments that pit armored men armed with lances against each other strange and brutal. But we too enjoy risky sports: Formula 1 and alpine downhill racing are just as dangerous but still – or perhaps because of that – thrilling for both participants and spectators.
Tournaments began in the high Middle Ages as military training with the then newly-introduced lance. These exercises proved the ideal setting for knights to display their skills and velour, which is why they quickly evolved into elaborately-staged sports competitions and exhibition fights. Tournaments were held to celebrate, for example, Imperial Diets, coronations, and weddings. Like modern international sporting events, they facilitated networking, diplomatic exchanges – and functioned as a marriage market.
Important Loans – in Vienna For the First Time
Iron Men – Fashion in Steel assembles some of the most spectacular sets of armour from the late fifteenth to the early seventeenth century. Together with selected paintings, textiles, and sculptures, the circa 170 artefacts throw a new light on this complex subject.
Masterpieces from the Imperial Armory in Vienna – the world's most important collection of its kind – form the heart of the exhibition. Also on show are precious loans from the Metropolitan Museum of Art in New York, the Real Armería in Madrid, the Wallace Collection in London, and the Ronald S. Lauder Collection. Some of these splendid artefacts have never been shown outside their home collection and were extensively restored for the exhibition.
There are also important loans of paintings from the Metropolitan Museum of Art in New York and the Staatliche Kunstsammlungen Dresden, loans from the Victoria & Albert Museum in London, the Albertina and the Wien Museum in Vienna, and Ambras Castle in Innsbruck, as well as fragile, rarely exhibited and newly-restored artefacts from the holdings of the Imperial Armoury.
The special exhibition "Iron Men – Fashion in Steel" runs in Vienna until June 26, 2022. Tickets are available online. The accompanying exhibition catalog can be purchased on the Kunsthistorisches Museum website for 30.00 EUR.
For more information on the special exhibition, please visit the really mind-blowing and extremely informative website dedicated to this special exhibition of the Kunsthistorisches Museum.
Also look into the opening of the exhibition: