[bsa_pro_ad_space id=4]
26-01-2018 – 01-01-1970
Live-Auction 25
Numismatic literature at Solidus
Solidus Numismatik runs live-auction 25 on 27 January 2018 on the auction platform AUEX, starting at 5 pm CET, featuring 795 lots of international numismatic literature including bibliophilic rarities from the beginning of the 18th century through to auction catalogs which feature important collections. As in the previous Literature Auction 17, there are again numerous books in various languages covering a wide range of topics: ancient, medieval and modern numismatics as well as periodicals and highly interesting auction catalogs with many important collections, eg. Collection Morosini (Tyrol), Baranowsky (Russia), Harmening (Art Medals), Erbstein (Universal complete), Bahrfeldt (Middle Ages), Complete series of Peus until 2014, Collection Belli (Universal complete), Collection Hartwig (Ancient coins, Aes Grave), Frank Sternberg, Zurich (complete!).
Bids for the books can be placed until January 27, 2018 on the auction platform AUEX.
An excerpt of the highlights:
lot 18 Johann Hieronymus Lochner: Sammlung merkwürdiger Medaillen. First to eighth year (complete). Nuremberg 1737-1744. Immaculate copy.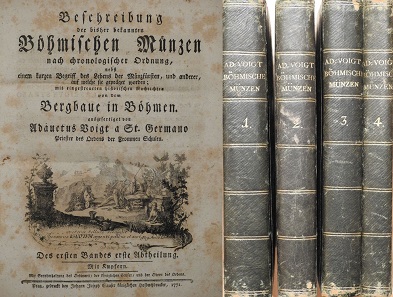 Lot 27 Voigt.
Lot 27 A. Voigt: Beschreibung der bisher bekannten böhmischen Münzen nach chronologischer Ordnung. Volumes 1 – 4 (complete). Prague 1771-1787. Very rarely offered in such completeness, especially the 4th volume is rare. Lot 297 Katz: Die Erzgebirgische Prägemedaille des XVI. Jahrhunderts. Prague 1932. Immaculate condition in half-leather.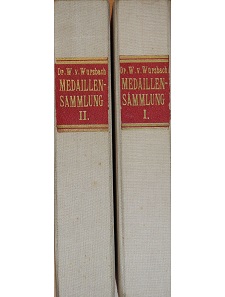 Lot 465 Wurzbach.
Lot 465 Wurzbach: Katalog meiner Sammlung von Medaillen, Plaketten und Jetons. 2 parts. Zurich, Leipzig, Vienna 1943-1945. Rare original.
Lot 496 Blätter für Münzfreunde.
Lot 479-497 Almost complete set of Blätter für Münzfreunde.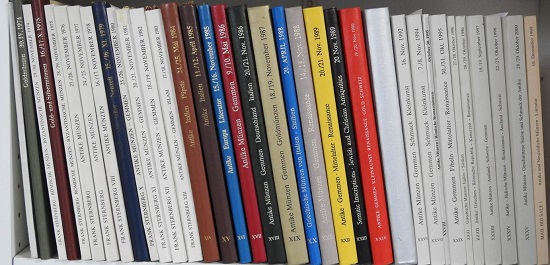 Lot 773 Sternberg.
Lot 773: Complete series of the auction catalogs of Sternberg, Zurich (very rarely completely offered).
You can submit your maximum bid before the auction – or during the live auction, where you can offer in real-time in the same way as in a auction room and actively influence the auction situation. The live auction will start on Saturday, January 27, 2018 at 5 pm CET.
Visit Solidus Numismatik here.

The auction can also be viewed on the platform Sixbid.