[bsa_pro_ad_space id=4]
Solidus Offering Superb Late Antique Gold Coins
Munich-based auction house Solidus Numismatik will be offering 567 single lots including 107 selected premium lots in their Autumn Auction 49 on 17 November 2019 presenting thus a wide range of attractive collectors' coins. Highlights worth to be mentioned include a beautiful series of late antique gold coins in the finest condition, as well as a rarely in such completeness offered series of late medieval coins of the Principality of Moldavia with numerous rarities. Even collectors on a smaller budget will find something. In the second part many attractive coins start with very moderate estimated prices, amongst them a whole series of small Saxon coins or a group of particularly favorable pope medals. The auction will be held live on the platform AUEX on Sunday, November 17, starting at 16:00 CET. Pre-bids can already be submitted.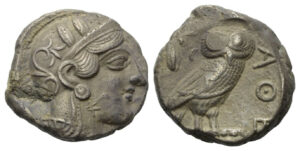 The series of premium coins begins with Eastern Celtic Thasos imitations, followed by selected pieces from various landscapes, including some beautiful gold issues such as a Lucan third Stater from Metapont (lot 6), Macedonian gold coins of Alexander III. the Great and Philip III. Arrhidaios (lots 10 and 11) or a Punic tenth stater of Carthage (lot 17). Of particular interest is an extremely rare and unusual Tetradrachm of the Attic type, which differs in style from its prototypes by not readily recognizable subtleties (lot 16). An "aleph" on the cheek was interpreted as a sign of the city of Askalon in the Philistia.
Among the Roman coins, a series of excellently preserved Denarii of the imperial period is striking, among them a rare Didius Iulianus (lot 49).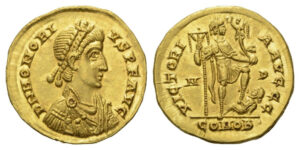 The late antiquity is represented by beautiful gold coins in excellent condition (lots 58 – 75), including two interesting and rare barbarian coins (lots 78 and 79).
The medieval coins in the premium section dominates an unusual series with some extremely rare items of the Principality of Moldova. Attention should also be paid to an 14th-century old Russian hryvnia bar of the Tartar type (lot 92) and a beautiful Follaro from the Genoese colony of Kilija, also from the 14th century, which is an outstanding rarity, especially in this unusual quality (lot 93).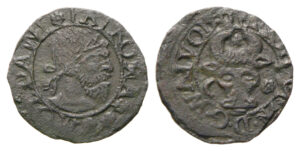 Among the German coins of Modern Times a Baden Rheingold Dukat from 1832 (lot 94) and two rare samples from the Empire (lot 96: 25 Pfennig 1909) and the Weimar Republic (lot 97: 5 Mark 1925 in gold) are particularly worth mentioning. The Habsburg dynasty is dignified by a splendid copy of a Kremnitz Thaler of Maria Theresa from 1765 and a rare 4-Ducat piece by Franz I from 1824. At the end of the premium part, three Polish coins stand out: a Thaler on the Targowitz confederation of the Polish nobility from 1793 (lot 103), as well as two very beautiful Gdansk coins – a Ducat from 1591 and an Ort from 1614.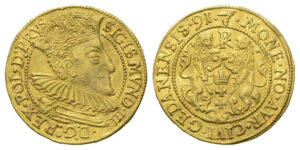 In the second part, the numismatic round starts from the beginning, with many affordably estimated coins from Antiquity to Modern Times. In Greek coins, some of the very beautiful Attic Tetradrachms are worthy of note (299-308). Individual coins, such as a bronze of the Taurian Chersonese (lot 225) impress with their preservation and excellent style. After the Roman coins, the Medieval coins are again dominated by a rich offer of Southeast European types, mainly from the Principality of Moldova, from which later also some modern coins can be found. Also in the second part nice gold coins can be purchased, for example, a Bavarian Max d'Or of 1719 (lot 485), a Nuremberg lamb Ducat of 1700 (lot 506) or Ducats of the United Netherlands (lots 589-591). Among the wide-ranging attractive offers are some evident priorities, for example a group of Saxon small coins; also a group of cheap Pope medals within the large offer of medals.
You can place your maximum bids before the auction – or during the live auction, during which you can bid on the lots in real time and actively influence the auction process, similar to a floor auction. The live auction starts on Sunday, 17th November 2019, at 16.00 CET.
You can browse through the complete auction catalogue on AUEX.
The auction is also available on Sixbid.
The coins can be viewed at the office of Solidus Numismatik prior to the auction (only by appointment).
You can reach the website of Solidus Numismatik here.