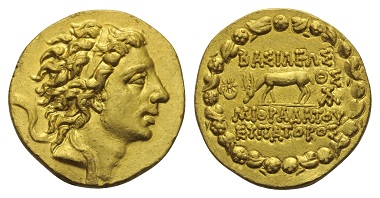 [bsa_pro_ad_space id=4]
20-10-2017 – 01-01-1970
Premium Auction 20
Solidus Numismatik e.K. Premium Auction 20
353 lots will be offered at Solidus Premium Auction 20 on the auction platform AUEX closing on October 21, 2017. The range stretches from ancient, Byzantine and Islamic coins to coins and medals from the Middle Ages and modern times. Exceedingly rare ancient coins, partially made of gold, and a series of Medieval coins from Germany and Europe, among others an extremely rare Lake Constance (Bodensee) bracteate, deserve special attention.
Until October 21, you can bid for the coins of the Premium Auction on the auction platform AUEX. The highlights include:
Lot 68: Mithridates VI. Eupator. Stater, 89/88 BC.
The auction starts with some interesting East Celtic Thasos types, followed by Greek coins from Magna Graecia, including an early didrachma of Tarentum, an attractive drachma of Rhegion and an extremely rare stater of Temesa minted during the short period of independence from Kroton. Many coins of Thrace and Macedonia are offered, among these two marvellous golden staters of Philippos II. of Macedonia and a beautiful series of extraordinarily well preserved tetradrachmas and bronze coins, furthermore strikings made in the Greek motherland and Minor Asia, inclusive of an exceedingly rare early tetradrachma of Athens, a noteworthy golden stater from Mithradates VI. Eupator of the kingdom of Pontos as well as a tetradrachma of Kyzikos fabricated in an elaborate style.
Subsequently we have a series of Roman provincial coins from all parts of the empire with many interesting and very rare mythological reverse motifs, some of them with fine portraits of the Julio-Claudian dynasty and an appealing series of bronzes from Nikaia, Nikomedia and Kyzikos.
Lot 201: Macrianus, 260-261 AD. Aureus.
Among the Roman imperial coins selected, partially especially well preserved or very rare denarii and Antoniniani with outstanding portraits, among them strikings of Pacatianus, Saloninus as Augustus and an extremely rare aureus of the usurper Macrianus in an contemporary openwork frame have to be mentioned.
There are Byzantine coins of bronze, silver and mainly of gold, including a rare solidus of the common reign of Iustinus I. and Iustinianus I. and of Constans II. from the mint of Syracuse, furthermore an interesting, exceptionally rare basilikon of Johannes VI. Kantakuzenos. Finally some coins of the Migration Period are noteworthy.
Lot 268: Ulm or Memmingen (?). Uncertain imperial mint. Bracteate, ca. 1260/70.
This is followed by rare medieval strikings from Germany and Europe. A braceteate from the Lake of Constance area needs to be emphazised. Only two items have been offered at auctions until now. A remarkably rare penny of Straubing is the second one offered on the market in such a fine quality. Among rare coins of the European Middle Ages in particular Danish and Northern European coins are eye-catching.
Lot 340: Orhan Ghazi, 724-761 H. / 1324-1360. Dirham. Brusa?
The auction finishes with modern coins from Germany, Austria and Europe and an attractive series of Islamic coins with a focus on strikings of the Ottoman Empire.
You can send your maximum offers before the auction – or participate in the live auction, that allows you to bid on the lots in real time and influence the auction process directly, similar to a floor auction. The Live Auction starts on Saturday, October 21, 2017, at 16:00 CEST. Please register till October 21, 14:00 CEST.
You can reach the auction on AUEX directly by clicking here.
The auction can also be viewed on Sixbid.
The coins can be viewed at the office of Solidus Numismatik from Tuesday 17 October to Friday 20 October 2017 (only by prior notification).
To reach the website of Solidus Numismatik, please click here.