[bsa_pro_ad_space id=4]
24-03-2017 – 01-01-1970
Premium Auction 13
Attractive Gold and Silver Coins from Antiquity and the Early Modern Era at Solidus
Since the 15th of March bids can be placed for the coins of premium auction 13 by Solidus Numismatik at the auction platform AUEX. 535 lots have been selected for this auction:
Lot 33: Cimmerian Bosporus. Pantikapaion, 340-325 BC. Gold stater.
The auction starts with some interesting West and East Celtic coins. It continues with Greek coins from Southern Italy, among others an extremely fine incuse stater from Siris and Pyxos and a rare variant of a tetradrachma from Rhegion. An attractive gold stater from Pantikapaion with a bearded Satyr executed in excellent style deserves special mention. The auction offers furthermore some rarities from Thrace respectively Macedonia, among them a series of extremely fine gold staters. A considerable series of beautiful and partially very rare partitions from the Greek mainland and finally strikes from Minor Asia with some extraordinary electron coins.
These are followed by selected Roman Provincial coins from all parts of the empire with many rarities, including a bronze medaillon of Gordianus III. from Viminacium.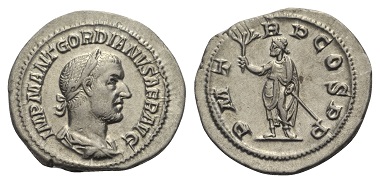 Lot 308: Gordianus I Africanus (238 AD). Denarius, 238 AD. Rome.
Roman Republican and Imperial coins are represented with selected and partially extremely rare Denarii, Antoniniani and Bronzes of high quality and with nice portraits, among them Denarii of Julia Titi, Plotina, Pescennius Niger, Diva Paulina and Gordianus I. Africanus.
Lot 410: Constantinus IV, 668-685 AD. Miliaresion, 674-681, Constantinopolis.
Attractive late antique and byzantine coins are offered in bronze, silver and especially gold; among these a ceremonial strike (Miliaresion) made of silver from Constantin IV. deserves special mention.
Lot 430: Andechs-Merania. Anonym. Denarius (ca. 1170/80). Brixen.
There are some rare medieval coins from Germany, Europe and Georgia; worth mentioning is a Denarius of Andechs Merania, which clarifies for the first time the image of the reverse, which can be definitely identified as espiscopal now. The auction continues with early modern coins and medals from Germany, Austria and Europe including some beautiful shooting medals and badges made of silver. The auction ends with an attractive series of Islamic coins with a focus on the gold coinage of the Ottoman Empire and four rare items of the Sharifs of Morocco from the reign of Mulay al-Hasan.
You may send your maximum offers before the auction – or participate in the live auction that allows you to bid on the lots in real time and influence the auction process directly, similar to a floor auction.
The live auction starts on Saturday, March 25, 2017, at 16.00 CEST
You can reach the auction at the platform AUEX following this link.
The auction can also be viewed via the platform Sixbid.
The coins can be viewed by appointment until Friday, March 24, 2017 at the office of Solidus Numismatik in Munich.
To visit the website of Solidus please click here.