[bsa_pro_ad_space id=4]
16-02-2018 – 01-01-1970
Premium Auction 26
Solidus Premium Auction 26
444 lots will be offered at Solidus Premium Auction 26 on the auction platform AUEX. The range stretches from ancient, Byzantine and Islamic coins to coins and medals from the Middle Ages and modern times. Exceedingly rare ancient and Medieval coins from Germany and Europe, deserve special attention, furthermore a series of excellently preserved World coins with a focus on the Habsburg Dynasty, the kingdom of Romania and other European countries. Finally rare Early Ottoman coinage.
Until February 17, you can bid for the coins of the Premium Auction on the auction platform AUEX.
Lot 41: Attica. Athens. Tetradrachm, ca. 500-490 BC.
The auction starts with some interesting East Celtic Thasos types that are characterized by a peculiar style and unusual variants , followed by Greek coins from Magna Graecia and Sicily, furthermore many coins of Thrace and Macedonia, among these a pretty stater of Abdera with Herakles sitting; strikings made in the Greek motherland and Minor Asia, inclusive of an exceedingly rare archaic tetradrachma of Athens as well as remarkable staters of the tyrant Alexander of Karystos from Euboea and Pharnabazos of Tarsos in Kilikia; finally a rare tetradrachma from the time of the Bar Kochba rebellion in Judaea.
Lot 107: Thrace. Roman Province. Philippopolis. Caracalla, 197-217 AD. Bronze medaillon.
Subsequently a series of Roman provinical coins is offered, with a focus on the Danubian provinces and many interesting and rare reverse motifs; among these an astonishing well preserved and unpublished bronze medaillon of Caracalla from Philippopolis imaging the "Hercules Farnese" on the reverse.
Roman imperial coins, comprise a selection of especially well preserved sestercii of the first and second century with excellent portraits, attractive denarii and antoniniani as well as nearly perfect and faultless solidi from the reign of Theodosius I and Arcadius.
There are Byzantine coins of bronze, silver and mainly of gold, including a rarely offered and historically interesting follis of Heraclius from the mint of Jerusalem and a very rare 1/3 miliaresion of Romanus IV Diogenes. Finally some Byzantine lead seals and three noteworthy late Roman solidus-weights.
Lot 205: Counts of Lippe, 1229-1265. Penny, unknown mint.
This is followed by rare medieval coins from Germany and Europe. A denarius from an unknown mint of the counts of Lippe from Bernhard III. and a Swedish long-cross penny, both extremely rare, deserve special mention. Furthermore modern coins and medals from Germany, Austria and Europe are offered, frequently in excellent state of preservation. Core areas are coins of the Habsburg dynasty and of the Romanian kingdom. The chapter ends with a few medals of Karl Goetz.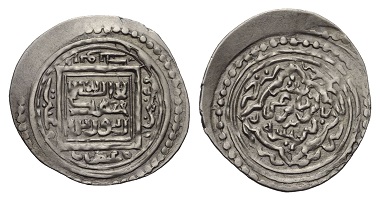 Lot 374: Orhan Ghazi (724-761 H. / 1324-1360). Dirham, Brusa, no year.
The auction finishes with a considerable series of Islamic coins with a focus on the Ottoman Empire , including many rarities of the early period. Among several dirhams of Orhan a sample mentioning the four righteous caliphs on both sides is especially eye-catching.
You can send your maximum offers before the auction – or participate in the live auction, that allows you to bid on the lots in real time and influence the auction process directly, similar to a floor auction. The Live Auction starts on Saturday, February 17, 2018, at 16:00 CET. Please register till February 17 2018, 14:00 CET.
You can find the auction directly on AUEX.
The auction can also be viewed on Sixbid.
The coins can be viewed at the office of Solidus Numismatik from Tuesday 13 february to Friday 16 February 2018 (only by prior notification).
Here you can visit the website of Solidus Numismatik.