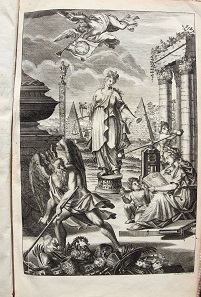 [bsa_pro_ad_space id=4]
07-07-2017 – 01-01-1970
Literature Auction 17
Numismatic literature, bibliophile works, monographs and rarities at Solidus
At the Solidus Literature Auction 17 on the auction platform AUEX 453 lots are presented. The time frame is from 1700 to 2012, containing books in German, English, Dutch, Italian, Spanish, Russian and French (for example Saulcy, Souvenirs numismatiques de la Revolution de 1848). You can find a wide range, from bibliophile rarities to important standard works on numismatics as well as magazines for coin dealers and collectors (including Lange, Sammlung schleswig-holsteinischer Münzen und Medaillen – the original!). A large part of the auction consists of very interesting early auction catalogs from the 19th and 20th century with many important collections, among others Rolas du Rosey, Höfken (Middle ages), Peltzer, Ebner (Württemberg), Erbstein, Harmening (Art medals), Kraaz (Kipper), Gaettens (Mecklenburg).
Until July 8, 2017 you can offer for the books on the auction platform AUEX. An extract of the highlights: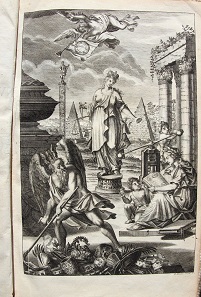 Los 01: Thesaurus Numismatum Modernum Huius Seculi.
Thesaurus Numismatum Modernum Huius Seculi.
Historische Gedächtnis-Münzen des gegenwärtigen Seculi. Lat. et Germ. cum Supplementus et Indicibus 1700-1709. Bände 1-4. Nürnberg 1700-1716. 1 Kupferdoppeltfn., Index. Jeweils mit vielen Kupferabb. In einem Band gebunden. Ganzledereinband, bestoßen, Inhalt tadellos.
Ex libris Hermann Wintz and Ad Bibliothecam Episcopal Spirens. Very rare!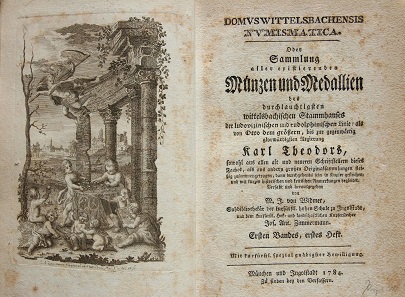 Los 16: Domus Wittelsbachensis numismatica.
Domus Wittelsbachensis numismatica.
Oder Sammlung aller existierenden Münzen und Medaillen des durchlauchtigsten wittelsbachischen Stammhauses der ludovizinischen und rudolphinischen Linie: als von Otto dem Größeren, bis zur gegenwärtig glorwürdigsten Regierung Karl Theodors. Band 1 (Heft 1-2). München/Ingolstadt 1784. Frontispiz, 94 S. mit Abb., 13 Tfn.; –. Sammlung aller existirenden Münzen und Medaillen des Durchleuchtigsten Wittelsbachischen Stammhauses von der Rudolphinischen oder pfalzgräfischen Linie ins besondere. Erstes Stück. München 1784. 84 S., 1 Stammtf., 10 Tfn.; –. Zweytes besonderes Pfälzisches Stuck. [München 1785] S. 85-204, Tfn. 11-24; 1 Stammtf. –. In zwei Bänden gebunden. Halbleinen, Einband des zweiten Bandes locker und fast gelöst, Einbände etwas beschädigt, teilweise stockfleckig
Los 231: Mitteilungen der bayerischen numismatischen Gesellschaft.
Magazines. Mitteilungen der bayerischen numismatischen Gesellschaft.
Bd. 9-14 aus den Jahren 1890-1895. Enthält u.a. L. FIKENTSCHER, Die ältesten Münzen der Landgrafen von Leuchtenberg und der Grafen von Württemberg; E. BAHRFELD, Die Datirung der brandenburgischen Denare aus der Zeit der Regenten des bayer. Hauses, C. v. ERNST, Zur Geschichte der Münzstätte Günzburg; A. HORCHLER, Ein Ducatenfund; R. EHRENBERG, Die ersten Tiroler Guldener; FIKENTSCHER, L., Versuch zu einer Münzgeschichte der Herzoge von Meranien…; v. RAIMANN, Der Münzfund bei Pfaffenmünster. Halbleinen.
Many important and interesting essays.
Los 241: Auktionskatalog von 1853.
Early auction catalogs. Auction from 15.08.1853 in Leipzig.
Katalog des Münzkabinetes der Stadtbibliothek zu Leipzig enthaltend eine Sammlung von Münzen und Medaillen älterer und neuerer Zeit. 10235 Nrn. Dazu: Nachtrag. 202 Nrn. Teilweise beigeschriebene Preise. Modernes Halbleinen.
Very good preserved.
You can submit your maximum bid before the auction – or during the live auction, where you can offer in real-time in the same way as in a auction room and actively influence the auction situation. The live auction will start on Saturday, July 8, 2017 at 18:00.
You can reach the auction via the platform AUEX directly.
The auction can also be viewed on the platform Sixbid.
To go to the website of Solidus Numismatik, please click here.