[bsa_pro_ad_space id=4]
Solidus Dedicates Auction to Ottoman Coins for the Second Time
On Sunday, 15 March 2020 Solidus will hold his second special auction 54 – Ottoman Empire 2 on the auction platform Auex. The auction will start at 17:00 CET as a live auction. Pre-bids can already be submitted.
The auction contains 365 coins from the 14th century to the time around 1900: predominantly coins of the Ottomans and 20 coins of the Anatolian Beyliks. There are numerous rarities and variants of different types offered. All pieces are very moderately estimated.
The auction begins with coins of the Anatolian Beyliks, including some rarities und unpublished items. Lots 6 and 7 of the beylik Menteshe deserve special mention. The akce of "Umur bin Mehmed", an unknown ruler, probably brother of the well-known Ilyas bin Mehmend is noteworthy . Lot 15 from the beylik Germyian is probably also an unpublished variant.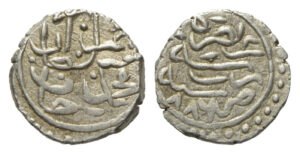 A selection of different types of Orhan and coins of other early sultans with many rarities is following. A well readable Akce of Cem Sultan with full lettering is a highlight.
Among the coins of Suleiman I. are many rare mints including coins from the Yemen. A series of unusually well preserved Mangirs (copper coins) from the earlier Sultans, that are very rarely to be found in this state of preservation, deserves also mention.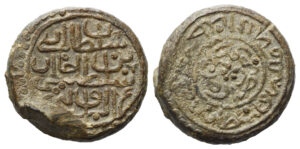 Of special interest is a lead pattern of Murad III. from Erzerum (lot 193). The legend of both sides corresponds with the type of a Dirham, that is usually executed in a much inferior way and less skilled. The exceptionally accurate calligraphy of this item allows the conclusion, that it might have been the pattern of a donative gold coin minted in Erzerum.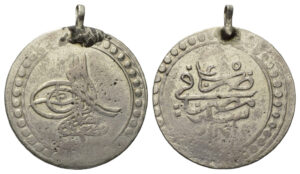 There are repeatedly equally rare mints from the later Sultans. Among this later coinage a 40 para piece of Ali Bey, struck in Misr during the reign of Mustafa III., is an outstanding item. Some rare silver coins and again unusual and rare Mangirs are on offer, e. g. Mangirs from Van.
You can place your maximum bids before the auction – or during the live auction, where you can bid on the lots in real time, similar to a floor auction, and thus actively influence the auction process. The live auction starts on Sunday, 15 March 2020 at 17:00 CET. Please register by Friday, 13 March at 13:00.
You can find the auction catalogue on AUEX or Sixbid.
For more information on Solidus go to the Solidus Numismatik website.