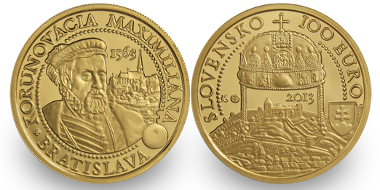 [bsa_pro_ad_space id=4]
December 19, 2013 – In November, the National Bank of Slovakia issued a gold collector coin in nominal value of 100 euro commemorating the 450th anniversary of the coronation of Maximilian II.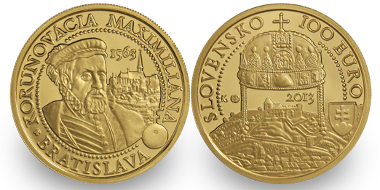 Slovakia / 100 euros / .900 gold / 9.5g / 26mm / Design: Karol Licko, Dalibor Schmidt / Mintage: 4,300.
The coronation of Maximilian was the first coronation ceremony in Pressburg (today's Bratislava), which became Hungary's capital and coronation town in 1536. It took place on 8 September 1563 in the Parish Church dedicated to St. Martin (today St. Martin's Cathedral).
The coronation was an exceptional event and was witnessed by the whole of Europe. The ceremony was attended by Maximilian's father Ferdinand I, Holy Roman Emperor, the high clergy and the nobility, as well as by leading representatives of almost all European countries. In the following years, the next ten Hungarian sovereigns were also crowned in Pressburg.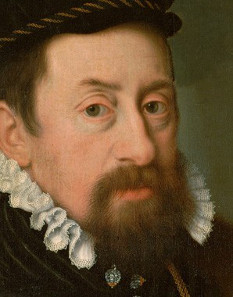 Nicolas Neufchâtel: Maximilian II, aged about 40, c.1566.
Maximilian II (1527-1576) was a highly educated ruler and generous benefactor of the arts and sciences. Although he resided outside the territory of Hungary for most of his ruling period, he dedicated much of his efforts to defend it against the Turks. The result of his military successes was the a peace agreement with Sultan Selim II in 1568.
If you want to know more about Maximilian II, you can keep reading here.
More information on the coin is available on the Mincovna Kremnica website.