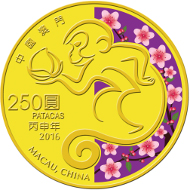 [bsa_pro_ad_space id=4]
November 19, 2015 – The Monetary Authority of Macau presents the Macau Lunar Coin Series (2008-2019), which is exclusively minted and marketed by The Singapore Mint. This new lunar coin series draws from the richness and diversity of Macau's distinctive culture.
Macau / 250 Patacas / Gold .9999 / 7.776 g / 21.96 mm / Mintage: 5,000.
The obverse side of the coin, which is available either in gold or in silver, features the witty monkey with a heavenly peach in its grasp, accompanied by a shower of peach blossoms in full bloom. Peaches are symbols of immortality, often associated with the monkey in traditional Chinese culture. The peach also represents wealth and everlasting good fortune in the brand new year.
A plentitude of peach blossoms signifies abundance and wealth. The fresh bursts of pinks and reds wafting from the peach blossoms brings forth the freshness of spring and renewed youth and vigour.
The reverse side features the Holy House of Mercy in the Historic Centre of Macau, a UNESCO World Heritage Site.
The Holy House of Mercy in Macao.
Throughout its history, the Holy House of Mercy has been the source of medical and social assistance for the underprivileged in society. Today, a museum established within the building, boasts a diverse collection commemorating the charitable works in Macau.
The Singapore Mint have achieved a breakthrough in minting technology to achieve an extraordinary minting technique incorporating sandblast, gloss, relief and color effects all into one. The witty monkey is seen playfully grasping the peach amidst the shower of peach blossoms in full bloom on the coin design. The vibrant color of pink from the peach blossoms brings forth the freshness of spring and renewed youth and vigor for a brand new year, and also accentuates the wittiness and agility of the monkey.
A highly sought after collection for coin collectors to add on to their collection of the Lunar coin series. The first coin began with the almanac animal rat, and continues up to the current monkey coin, which is the ninth coin in this lunar collection.
More information on the issue is available on the Mint's Website.
If you are interested to learn more about the Holy House of Mercy, please visit the official website.
And this is the Macao entry in the UNESCO World Heritage List where you can also watch an instructive video.