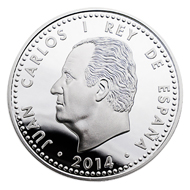 [bsa_pro_ad_space id=4]
August 7, 2014 – On the occasion of the 300th Anniversary of the Royal Spanish Academy, the Royal Mint of Spain has issued a silver proof coin. Its obverse depicts His Majesty the King of Spain, the reverse shows the entrance of the headquarters of the RAE (Royal Spanish Academy) and its emblem.
Spain/ / 10 Euro (8 reales)/ Silver 925/ 27 g/ 40 mm/ Mintage: 10,000.
The Royal Spanish Academy (Real Academia Española in Spanish, abbreviated as RAE) is the official institution responsible for overseeing the Spanish language. It is based in Madrid, Spain, but is affiliated with national language academies in twenty-one other Spanish-speaking nations through the Association of Spanish Language Academies.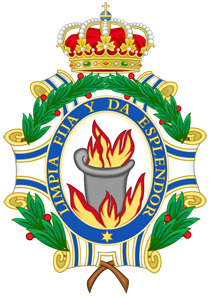 The RAE's emblem./ Source: Heralder/ http://creativecommons.org/licenses/by-sa/3.0/deed.en.
The RAE dedicates itself to language planning by applying linguistic prescription aimed at promoting linguistic unity within and between the various territories, to ensure a common standard in accordance with Article 1 of its founding charter: "… to ensure the changes that the Spanish language undergoes […] do not break the essential unity it enjoys throughout the Spanish-speaking world."
Click here to visit the Royal Spanish Mint online.
And here, to go to the website of the RAE.