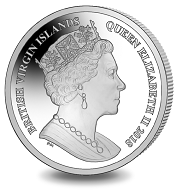 [bsa_pro_ad_space id=4]
February 28, 2019 – Born on 13th April 1743 in Virginia, Thomas Jefferson was an American Founding Father and the principal author of the Declaration of Independence who subsequently became the third President of the United States of America. He was an advocate of democracy, republicanism and individual rights. He produced constructive documents and decisions at both state and national level motivating American colonists to form a new nation.
British Virgin Islands / 10 dollars / proof fine silver / 62.21 g / 38.60 mm / Mintage: 650.
Located in Washington DC, the Jefferson Memorial is a neoclassical building which was completed in 1943. The bronze statue of Jefferson was added to the interior of the domed memorial in 1947 and stands at 5.8 metres tall and weighs 4,336 kilos. It is this bronze statue which is the centrepiece of this stunning new coin which has been dished to give the impression of this amazing sculpture inside a dome.
The Thomas Jefferson Memorial Statue. Photo: Sampsonsimpson20 / CC BY-SA 3.0.
In the Memorial the words "I have sworn upon the altar of God eternal hostility against every form of tyranny over the mind of man" are inscribed below the dome, part of which can be seen on the coin. This sentence is taken from a letter written by Jefferson in 1800. The panels of the walls, which are indicated on the coin, feature extracts from the Declaration of Independence.
This technically challenging coin is a fitting tribute to this American Founding Father and former President. The obverse of the coin features a portrait of Her Majesty Queen Elizabeth II produced exclusively for Pobjoy Mint.
More information on this coin is available on the Pobjoy Mint website.
History.com offers additional information on Jefferson's life and work.
Thomas Jefferson is, of course, also an important character in the successful Broadway musical "Hamilton". His first song, set after his return from Paris where he had worked as the American ambassador to France, is available on YouTube.