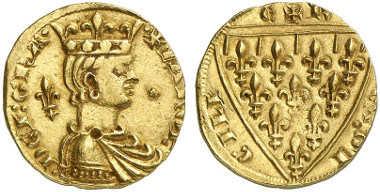 [bsa_pro_ad_space id=4]
by Ursula Kampmann
translated by Teresa Teklic
August 28, 2014 – Palermo is a great city. Even more so on Sunday than on Saturday nights. Because even Palermitans have to work Monday, which means that the general noise level is considerably lower if you can't have a lie-in the next morning. Another possible explanation could of course also be that we were sleeping like babies Sunday night due to the previous night's sleep deprivation and following exhaustion.
Monday, April 28, 2014
Anyway, we woke up the next morning rested and looking forward to seeing Palazzo Chiaramonte, a widely underestimated historic site, which houses two great treasures. A wooden ceiling painted with figural scenes from the end of the 14th century and the only existing inquisition prison worldwide whose walls have been painted by the accused.
Inquisition? In Palermo? You're quite right, most of the city's history was influenced by Spain, birthplace of the inquisition.
Charles I of Naples. Reale d'oro o. J., Messina. From Künker auction sale 239 (2013), 5302.
It all started with Conrad IV of Germany, successor to Frederick II. He didn't live long enough to leave behind an adult son. So, little Conradin was sent to Germany while the grown-ups were fighting over his heritage. An illegitimate son of Frederick was going against Charles of Anjou, the Pope's candidate. Charles came out victorious. He conquered Sicily, even if he had to execute Frederick's grandson, hopeful young Conradin, for it – to the horror of the aristocracy and their chivalric sense of honour.
Peter III of Aragon and Constance, 1282-1285. Pierreale d'oro o. J., Messina. From Künker auction sale 245 (2014), 302.
Such deeds surely didn't help the popularity of Charles I of Naples. Peter III of Aragon, called Peter the Great in his homeland, used the dissatisfaction of the Sicilian aristocracy to his advantage. He had married Frederick's II granddaughter and laid claim to the throne in her name. The uprising, the infamous Sicilian Vespers, began before the gates of Palermo. A few Spaniards allegedly were a bit too outspoken in front of some Sicilian ladies. Angry words were spoken, rapiers drawn and before you knew it there was a war going on, which led – in a nutshell – to the partition of the Sicilian rule. The House of Anjou ruled the mainland, the Aragonese Sicily.
Frederick III of Aragon, 1496-1501. Carlino, Naples. From Künker auction sale 127 (2007), 4985.
Peter had entrusted his third-born son Frederick with the rule over Sicily. And that way, the island was ruled by a branch of the Spanish royal family for a good 100 years. When it died out in 1409, it was taken over by the Spanish line of the Habsburg family. Not to its advantage. It was ruled by a viceroy. The country had to generate tax income. Investments in infrastructure? Negative. That wasn't even being done in Spain. Simultaneously, the emerging Atlantic trade led to a refocusing of the historical world map. Sicily suddenly became marginal and began stagnating: under Spanish rule, with Spanish officials and – of course – the Spanish inquisition.
Palazzo Chiaramonte. Photo: KW.
That is why there was an inquisition and a prison in Palermo, housed in Palazzo Chiaramonte since 1601. The accused were held there unusually long because their files had to be sent to Spain first before a decision in their case could be made.
I'd seen immensely impressive images of paintings on the cell walls on the internet before and couldn't wait to see them in person. When exactly we'd get to see them was up to the usual Sicilian roulette. To maintain a sense of adventure, there is no overview of the various attractions' updated opening hours to be found anywhere. On top of that, people there are extremely creative in choosing random hours to grant tourists access. But we were lucky. Although we weren't allowed in the rooms alone, we could follow the guided tour. It would start in 5 minutes. 5 Sicilian minutes. After some 45 minutes we finally took off.
We started with four people. All foreigners. Me and my rudimentary language skills excluded, no one understood even the slightest bit of Italian. Which didn't bother the tour guide in the least. She talked and talked and talked. Already in the first room, we didn't have the slightest idea what we were supposed to be looking out for, despite all the exciting wall paintings, and the completely useless lecture was stealing our time.
For the accused, the soldiers who nail Christ to the cross wear the uniform of the Spanish inquisition. Paintings in Palazzo Chiaramonte. Photo: KW.
After we'd seen the first four rooms, we were really unlucky. Being joined by three more Italians led our tour guide to repeat everything she'd already told us, in the greatest detail possible, once more. When the paintings on the wall would have been impressive enough without her words (probably even more impressive). And the accused's cries for help, painted with charcoal that had been dissolved in drinking water, were impressive. Here, soldiers in the uniform of the Spanish inquisition are guiding Christ to his crucifixion.
A woman raises her hands to the sky in prayer. Paintings in Palazzo Chiaramonte. Photo: KW.
A woman raises her hands to the sky. Next to her the words "Piange la misera"– pray for the unfortunate.
Christ freeing the heroes of the Old Testament from hell. Paintings in Palazzo Chiaramonte. Photo: KW.
And suffering Christ frees all the prophets and heroes from the Old Testament from hell.
Battle of Lepanto. Paintings in Palazzo Chiaramonte. Photo: KW.
Ships are a popular motif on the walls. Maybe they symbolise the desire for freedom of the imprisoned, who were so close to the harbour while waiting for their judgment to arrive on the ships from Spain. One wall even depicts the Battle of Lepanto.
As I said, all of that was incredibly exciting and moving. But after an hour and a half for twelve tiny rooms, we were starting to grow a little impatient. After all, we still hadn't entered the palace with its monumental wooden ceiling. Our American fellow sufferers gave up. Under the pretext of some urgent business, they left the group. And we didn't have a choice but to stare at irrelevant furniture in irrelevant rooms for almost another hour before we arrived at the big hall.
Painted wooden ceiling, completed by three Sicilian painters between 1377 and 1380. Photo: KW.
I was enraptured. The attention to detail of this beamed ceiling is incredible. The images tell stories from the Old Testament, of Tristan and Iseult and other famous sagas.
Close-up of the ceiling. Photo: KW.
There are people hunting and fights between Christians and Muslims. There are tournaments, kings on their thrones and mythical creatures. You can find everything that impressed a Sicilian aristocrat in the 14th century.
The story of Judith beheading Holofernes. Photo: KW.
None of that particularly impressed our tour guide. She gave us 5 minutes (4 ½ of which she used up for another lecture) before she dismissed us, visibly not amused. We had probably not been very subtle in indicating that we were interested in the building more than in her tour.
Actually, we had planned to see the Regional Art Gallery, but – thanks to the unpredictability of opening hours – it was closed. Probably for our own good. We would have been too exhausted to enjoy the visit.
Tired, we ended up in a café and revived our spirits with some lemon soda before we faced the next challenge, buying train tickets for our journey from Palermo to Catania the day after next. That turned out to be a good idea. Without the short break we would not have gotten through this without major fits of rage.
You would think that this particular route doesn't present a major challenge. You're wrong. The only direct connection was at 6.33 am (as the very stressed out looking railway official informed us). We could take a train to Messina and a regional train from Messina to Catania. That would take us about 5 to 6 hours. And trains to Messina without stops at every village were exceedingly rare. All three of us – Kurt, I and the railway official – were soaked in sweat by the time we'd done the impossible, bought two tickets from here to there.
The ugliest fountain in Europe. Photo: KW.
Actually, we'd planned on seeing the Martorana next, which, according to an Internet platform, should have been open all day. Of course it wasn't. It had been closed 20 minutes prior to our arrival and was only going to reopen at 4 pm. I don't think the owner of the adjacent café was particularly upset about this arrangement, which bestowed him with customers plenty enough to occupy all his tables. As there was none left for us, we decided to take a walk instead. One of the spots we discovered on our little stroll was the Piazza Pretoria, colloquially also known as Piazza Vergogna, "square of shame", since the installation of the fountain in 1573. The fact that it is adorned with a multitude of nude statues was enough to bring a blush to Palermitan cheeks every time they walked by. Palermitan connoisseurs are embarrassed for different reasons. Art connoisseur Goethe for instance spoke of the fountain as a predecessor of the "Pallagonian frenzy" ("Pallagonische Raserei").
The interior of San Cataldo. Photo: KW.
The Church of San Cataldo, which lies opposite the Martorana and – what a brilliant marketing strategy! – opens half an hour earlier, is a different matter altogether. Thanks to this clever move, crowds of tourists daily push into this mosaic-less church at 3.30 pm, which I am sure they'd never paid attention to otherwise. I wonder if they appreciate this precious site. After all, the edifice, which still belongs to the Order of the Holy Sepulchre, is one of the last Arabo-Norman churches.
A glimpse of the Martorana's interior. Photo: KW.
Just opposite lies the inconspicuous entrance to the Martorana, a church with mosaics that qualitatively by far surpass those in the Capella Palatina. Although you don't necessarily notice them immediately. They are integrated too well into the Baroque church.
Founder George of Antioch praying to the Virgin Mary – his beetle-like shape is due to badly executed restoration works. Mosaic in the Martorana. Photo: KW.
The church was built by George of Antioch, a Greek resident of Tunisia, who ended up in Sicily. On the Italian island, George, who had been raised bilingually in Greek and Arabic, quickly became one of the most important men at Roger's II court. He became ambassador and later admiral. Under his command, the army of the Sicilian king was large enough to dare even the siege of Constantinople (though unsuccessfully).
Nativity. Mosaic in the Martorana. Photo. KW.
All of the church's mosaics are done in the Greek style.
Immaculate conception. Mosaic in the Martorana. Photo: KW.
You'd have to look for a long time to find mosaics of a comparable quality. Take for instance the subtle theological finesse as it is expressed in this depiction of the immaculate conception: archangel Gabriel announces the coming event to the Virgin Mary while the hand of God is sending the holy spirit in the shape of a dove. Mary is surprised by the archangel while spinning, the most female activity imaginable, at least in the 12th century …
Great artwork, admittedly, but we were simply knackered afterwards…
Tuesday, April 29, 2014
Slowly but surely we were showing signs or wear. Making plans for the next day became somewhat arduous. We were simply put off by so many things. Sights that were only accessible with a tour guide? Surely not! Long walking distances? No way! Then, we suddenly noticed those red double-decker buses, a common sight in touristic cities all over the world. Usually not our cup of tea, but today it was just what we needed. We got in, surprised the hostess by politely declining the headphones she offered us and enjoyed how comfortably the city unfolded itself in front of us.
Facades seen from behind. Photo: KW.
Church facades presented themselves from completely new perspectives.
Quattro Canti square. Photo: KW.
At Quattro Canti, the centre of the old town in Palermo, we came face to face with Spanish rulers – at eye level!
A shop for devotional objects. Photo: KW.
And even the Pope gave us his blessing. It had been but two days since the beatification of John Paul II and a business-minded shop owner for devotional objects was already offering a life-size statue of him!
San Giovanni degli Eremiti. Photo: KW.
We circled the city once. We circled it twice. And then we got bored. Pretty abruptly, we decided to get off and take a look at the church San Giovanni degli Eremiti.
San Giovanni degli Eremiti. Photo: KW.
This impressive Roman-Catholic monastery was the first of its kind on Sicily. Roger II founded it after his confirmation as King of the island. To build the monastery, they used spolia from a mosque. The original plan, though never realised, was to bury the uncrowned family members here. And it's close to a miracle that, despite the crowds of people queuing in front of the Palazzo dei Normanni close-by, the small cloister remains peaceful and quiet.
The biggest fig tree in Europe. Photo: KW.
By and by, we understood the ingenious concept of "Hop on – Hop off". What a funny idea, being able to decide within seconds that we wanted to see the park again that we'd passed by yesterday. Giardino Garibaldi, after all, grows the largest fig trees in Europe. Truly impressive plants, although I would have never realised they were fig tress without the help of Wikipedia.
Virgin Annunciate. Painting by Antonello de Messina. Source: Wikipedia.
Our last attraction would be the Galleria Regionale della Sicilia, we decided, and didn't regret our decision. Antonello de Messina's portrait of the Virgin Mary alone is worth seeing the gallery: listening to the angel of annunciation, she looks to gentle, the moment so intimate that you simply can't stop staring.
The triumph of death, 15th century. Source: Wikipedia.
What a stark contrast to the immense fresco depicting the triumph of death. Life and death, splendour and decay all in one picture was the perfect finish of our journey through Sicily.
We completed the city tour, went home and packed our bags. The train journey to Catania was, as usual when you're in Italy, exhausting and full of surprises. (I just love running stairs up and down, carrying heavy luggage, in search of the right platform for our train.)
I have to admit, saying goodbye to Sicily wasn't difficult. Just like the concierge said, when we assured him in what a beautiful city he lived: "Do you really want to swap places with me and stay here?" No, we didn't. For a holiday, the Palermitan chaos may be a nice change. On a daily basis, it's exhausting, full stop. Let's take for instance our last route in Sicily, the short distance between the central station of Catana and our hotel close to the airport.
We decided to take the bus instead of a taxi. I bought the tickets, we got in and waited. It was hot and there was no air conditioning. We sweated. The bus filled up more and more. When it was absolutely packed, the bus driver got in and informed us that we needed to change to the bus next to us. A difficult undertaking. We weren't the only ones carrying luggage (what a surprise, in an airport bus!). But finally, every person and every suitcase had left the one bus and gotten into the other bus. Here we go. In the following 45 minutes, we saw much of Catania, much more than I'd ever hoped to see of Catania. And eventually, we were back at the central station. No, no need to change buses again. The bus was now actually taking off in direction of the airport and a short one and a half hours after the arrival of our train, we reached the airport.
Our hotel was at a 1.5 km distance from the airport. For this 1.5 km, the taxi driver wanted 25 €. Of course I thought the man wanted to cheat me. But he didn't. In Catania, there is a fixed price for a taxi drive from the airport to the city, no matter the exact distance. The man had been queuing in the long row of taxis and wanted his 25 € now. And if the hotel was only 1.5 km away, what did he care?
I begged to differ on this point. Snorting with rage I aimed for the next tourist information. And who would have thought – it was open!!!!
Other tourists were already waiting in line. They were Americans who'd booked a hotel online and had somehow miscalculated distances. In brief, they were very obviously (or rather, very audibly) looking for another hotel. I, too, was ranting and raving pretty audibly. Luckily, the hostess seemed used to such scenarios. Apparently not for the first time, she called the hotel to order the free of charge hotel bus, of whose existence we hadn't known before (why would you put such a minor information on the website, right?). The other travellers were delighted about such comforts and promptly cancelled their reservation to join us at our hotel.
We spent an entertaining evening with the two, although the hotel's food was expensive rather than delicious. Well, it looked like we were back in the international world.
Ciao Sicilia! Era fantastico!
And here you can find all episodes of "Sicily in full bloom".