[bsa_pro_ad_space id=4]
May 23, 2013 – Odyssey Marine Exploration, Inc., a pioneer in the fields of deep-ocean shipwreck and offshore mineral exploration, will hold the first public unveiling of silver recovered from the SS Gairsoppa shipwreck when its multi-media traveling exhibit will be opened at Discovery Times Square in New York City on May 24, 2013.
SHIPWRECK! features hundreds of authentic artefacts and historical treasures recovered from Odyssey's deep-ocean projects from around the world. Odyssey's world-class archaeological work is showcased through interactive elements, graphic displays and an enhanced theatre experience.
Using advanced robotics, Odyssey recovers silver from the SS Gairsoppa shipwreck, which lies approximately 4700 meters deep in the North Atlantic. Photo: Odyssey Marine Exploration, Inc., www.shipwreck.net.
Silver recovered from the World War II-era SS Gairsoppa shipwreck, which lies approximately three miles deep, will be on display. This is the first public showing of some of the 1,218 silver bars (approximately 48 tons) of silver recovered to date from the Gairsoppa, which is the heaviest and deepest recovery of precious metal from a shipwreck in history.
In addition to the Gairsoppa silver, Odyssey is expanding the SHIPWRECK! Treasure Room to include a large selection of never-before-displayed coins from both the SS Republic and the "Tortugas" shipwrecks.
"We're really excited about bringing SHIPWRECK! to Discovery Times Square in New York City. Our team has discovered hundreds of shipwrecks in the deep ocean ranging from 2,000 year old Roman wrecks to WWII U-boats, and last year set a record by recovering 48 tons of silver from a shipwreck nearly three miles deep. One of our company's goals is to share our amazing work in the deep ocean with the general public, and Discovery Times Square is a premiere venue. SHIPWRECK! allows visitors to get up close and personal with the artifacts we've discovered and to learn about the team, tools and technology necessary to explore the deep ocean," said Greg Stemm, Odyssey Chief Executive Officer.
Odyssey's team aboard the 291-foot Seabed Worker conducts recovery operations on the SS Gairsoppa. Photo: Odyssey Marine Exploration, Inc., www.shipwreck.net.
"The Odyssey crew is a group of true pioneers in the world of deep-sea exploration and their quest for uncovering the past aligns well with the stories we have brought to life here at Discover Times Square," said James Sanna, President and Executive Producer of Discovery Times Square. "We are thrilled to host such an exciting exhibition featuring Odyssey's incredible deep sea discoveries."
Brave visitors navigate their voyage through a hurricane. Photo: Odyssey Marine Exploration, Inc., www.shipwreck.net.
SHIPWRECK! allows visitors to experience the thrill of shipwreck exploration while investigating some of the world's greatest maritime stories and mysteries. Featuring authentic shipwreck artifacts recovered by Odyssey in the Atlantic Ocean, English Channel and Mediterranean Sea, the exhibit takes visitors on a voyage through more than 2,000 years of seafaring history. A variety of authentic shipwreck treasure, decorative porcelain figurines, personal items like combs and tooth brushes and even the 300-year-old logarithmic calculator on a folding rule – the oldest ever recovered on a shipwreck site – are on display in the exhibit.
The fascinating story of one of America's most famous shipwrecks, the Civil War-era SS Republic, is a highlight of the exhibit. The Republic's vivid history including its historical connection to New York City is brought to life by the wide variety of treasure and artifacts on display. First-hand accounts from the passengers aboard the Republic during her final stormy journey departing from the New York harbor help paint the picture of her tragic demise.
The pioneering techniques and technology that allowed Odyssey to discover some of the most famous shipwreck sites in the world are also presented. A full-size replica of ZEUS, Odyssey's eight-ton Remotely Operated Vehicle (ROV) which acts as the archaeologist's hands and eyes in the deep ocean will also be on display.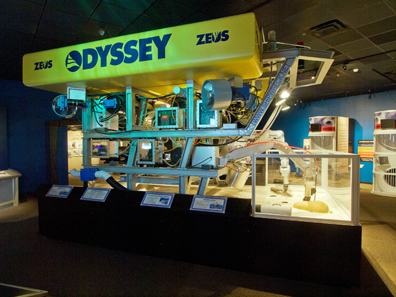 Visitors observe the life-size replica of the eight-ton Remotely Operated Vehicle (ROV) ZEUS. The ROV is fitted with high-definition still and video cameras and lights, and can descend to the ocean floor at depths of over 8,000 feet. Photo: Odyssey Marine Exploration, Inc., www.shipwreck.net.
Guests can test their skills by attempting to pick up artifacts with an operable model of ZEUS' robotic arm. An interactive version of the SS Republic photomosaic takes guests to the SS Republic which lies 1,700 feet beneath the Atlantic Ocean. Visitors can zoom in on specific areas of the photomosaic to find artifacts as small as a gold coin or domino. More than 2,500 digital photographs were stitched together to create this large scale photographic map of the wreck site.
Finally, the SHIPWRECK! "World of Pirates" interactive gallery and activities immerse visitors in the lore, legends, and facts of pirates of the Caribbean, Barbary Corsairs, Privateers and Buccaneers. Guests can learn how to identify pirate vessels on the horizon using spyglasses, raise the banners of notorious pirates, learn about life on the high seas, and create their own pirate in an interactive game.
For details on Odyssey's activities please the firm's website.
If you want to visit the exhibition or learn more about Discovery Times Square click here.