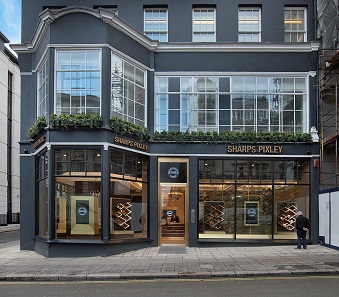 [bsa_pro_ad_space id=4]
February 25, 2016 – Sharps Pixley, one of the leading voices in the precious metals industry, is set to put gold back into the heart of London by introducing the UK's first bullion showroom at 54 St James's Street. The site, which has officially opened in mid-January, will allow everyday investors access to fine quality precious metals (gold, silver, platinum, palladium and rhodium) in a variety of forms as well as safe deposit boxes.
Bullion products ready to be picked up
London is considered by many as the global epicentre for gold trading at the professional level but in spite of this, physical metal is often not readily accessible to every day investors.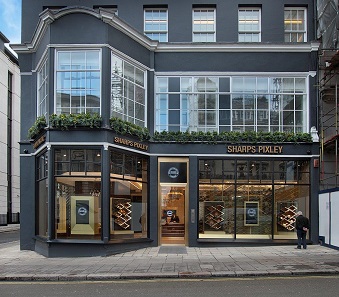 Exterior view of the new Sharps Pixley showroom in London. Photo: Lyndon Douglas.
To address this, the new showroom will offer a variety of products such as investment bars ranging from approximately £35 for one gram to £300,000 for a 400 ounce market bar (depending on market prices). In addition, consumers can also pick up coins minted from around the world and an exclusive collection of jewellery, watches and gifts made with high purity gold.
The reception area of the new Sharps Pixley showroom in London. Photo: Lyndon Douglas.
'There is a strong case for owning gold as a long term store of value, especially during periods of economic uncertainty and geopolitical tension' said CEO of Sharps Pixley, Ross Norman. 'It is our mission to make precious metals both more visible and accessible here in the UK. Gold has exhibited a four thousand year track record of wealth preservation and offers investors protection or insurance against economic crises'.
Sharps Pixley website delivers news material up-to-date
The Sharps Pixley team will be on hand to offer information and advice to all manner of clients, from institutional investors to first time buyers, as the business is already famed for providing best-in-class information on precious metals. Via its website, Sharps Pixley delivers some of the fastest and most complete sources of market prices, news, research and analysis, allowing investors to draw on leading sources of market information before making their investments. Sharps Pixley has been the leading gold market forecaster amongst LBMA (London Bullion Market Association) analysts over the last 15 years.
Gold bullion testing equipment at hand
The showroom also boasts a range of gold bullion testing equipment to verify the assay of the gold and to facilitate the purchase of metal back from clients. It is all in the name of giving investors unparalleled confidence in the quality of the metals they purchase.
Vaulting arrangements for clients
In addition to the precious metals services, Sharps Pixley will also provide world class vaulting arrangements plus 2,500 safe deposit boxes enabling clients to store their purchases, or alternatively offering peace of mind for any other valuables they wish to store in absolute security.
Degussa Goldhandel welcomes London showroom
Sharps Pixley's parent company, Degussa Goldhandel, already successfully operates 14 similar showrooms in cities across the world including nine in Germany, two in Switzerland and more recently in Madrid and Singapore. Chief Executive of Degussa, Wolfgang Wrzesnoik-Rossbach, is confident that expansion into the UK will mark a huge shift in the business.
He said, 'Having a presence in the UK is absolutely paramount to our ambitions. London is one of the biggest professional bullion markets in the world and we are uniquely positioned to extend the experience we have gained in democratizing gold, or making it available to ordinary investors in Germany by successfully growing our business to our colleagues in London.'
Sharps Pixley Ltd is located at 54 St James's Street London SW1A 1JT and opened for business on 14th January 2016. No appointment is required.
For more information on Sharps Pixley go to the company's website.