[bsa_pro_ad_space id=4]
March 22, 2018 – Shanna Schmidt Numismatics Inc. has a new and improved website. Working in the industry since 2005, and as an independent dealer since 2016, Shanna Schmidt previously had a gallery available online but sales were generally transacted through the third part site VCoins or privately at trade shows.
The new website shares the same visually beautiful photos that her web gallery displayed, but with some key additional benefits. Customers will now be able to look at her entire inventory and have the option to purchase coins directly from Shanna. Another practical feature on the site is the search function which can easily guide customers to specific coins they are interested in.
Customers are offered options to pay via credit card or PayPal. For those that prefer a more personalized experience can email or call Shanna for additional payment options such as check or wire.
Shanna has provided her customers with a weekly newsletter for over a year. Whether you purchase or not, you can sign up for the informative newsletter through her website. She offers representation services for all major coin auctions, as well as appraisal services which are detailed in full on her new site.
For customers that prefer to speak in German, Shanna is fluent in the language.
To give you an idea of her new website, take a look at these highlights:
Ptolemaic Kingdom. Ptolemy I Soter. as Satrap, 323-305 BC. Alexandria, in the name of Alexander III, ca. 311/0-305 BC. Removed from an NGC slab where graded Ch AU*; Strike: 5/5, Surface: 5/5. Fine style. 11,500 USD.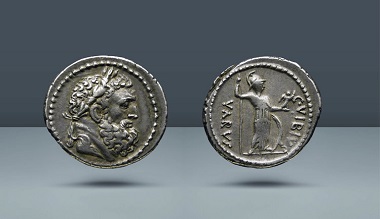 C. Vibius Varus. Rome, 42 BC. AR Denarius, 3.35g (18mm, 12h). Laureate head of Hercules r. / C·VIBIVS – VARVS Minerva standing r., holding Victory and spear. From the collection of E.E. Clain-Stefanelli. EF. 4,250 USD.
Trajan Decius. 249-251 AD. Rome, 5th officina. 2nd-3rd emissions, AD 249-250. AE Double Sestertius, 44.62g (37mm, 1h). IMP C M Q TRAIANVS DECIVS AVG, radiate and cuirassed bust r. / VICT ORIA AVG, Victory advancing l., holding wreath in r. hand and palm frond in l.; S C across field. Ex Sir John Evans Collection. Good VF. 8,000 USD.
Nicephorus II Phocas, 963-969 AD. Constantinople. AV Histamenon Nomisma (solidus), 4.36g (20mm, 6h). Bust of Christ facing, with decorated nimbus, wearing pallium and colobium, raising r. hand in benediction and holding Book of Gospels in l. hand. Ex Auction Karl Kress. Munich July 1971. Lot 868. EF. 2,200 USD.
Ireland, Hibero-Norse. Phase III. Dubin Mint, c. 995-1150 AD. AR Penny, 0.96g (17mm, 9h). +IIITII + RIIGIIDIE, head left, :: on neck / +III DIDI I+II IDII, long cross with hand, two pellets and 8 in angles. Ex Demerete Collection, Ex Stacks Bowers 20 August 2013, lot 34901. EF. 2,150 USD.
Check also the other offers and services available on the new website Shanna Schmidt Numismatics.